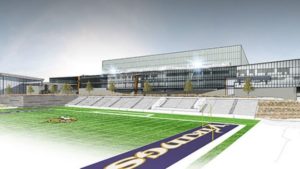 The Minnesota Vikings have secured naming rights for their new headquarters, with local physician group and sports medicine provider Twin Cities Orthopedics.
The Vikings announced a 20-year agreement Tuesday with TCO at the groundbreaking ceremony for the training facility and team offices they'll move into in 2018.
Financial terms weren't disclosed, but the campus will be called the Twin Cities Orthopedics Performance Center. An expandable 6,000-seat venue, one of five outdoor fields, will be named TCO Stadium.
Twin Cities Orthopedics will also construct a full-service center set to open around the same time on the sprawling suburban site, where players can go for MRI tests and consult with orthopedists.
Similar in concept to "The Star," the multi-purpose complex the Dallas Cowboys recently moved into, Vikings headquarters will sit on a 40-acre site designed to anchor a 200-acre development with commercial, retail and residential buildings planned over the next 10 to 15 years along with hotel and conference center space. The stadium is expected to host local high school football games and other youth activities.
"I think an NFL team can create that type of energy and that kind of investment," said NFL Commissioner Roger Goodell, who attended the event.
Quarterback Teddy Bridgewater, free safety Harrison Smith and wide receiver Laquon Treadwell were there, too, among the 20 people on stage for a series of speeches before a parachute quartet descended on the dirt and gravel to hand deliver the commemorative shovel that Goodell used for his photo-op dig. The landings were made on the under-excavation ground that will become the outdoor practice fields.
The Vikings long ago outgrew their current space that opened in 1981 in Eden Prairie, which like Eagan is suburb south of Minneapolis with a population of about 60,000.
Punts hit the ceiling of the indoor practice field, and business staff are scattered among three buildings. The vacated former headquarters of Northwest Airlines was available, a site much closer to the airport and much larger for all of the modern amenities desired by the team to keep players in the best mental and physical shape.
The new campus will include an indoor field with full-clear height for kicking, an auditorium for full-team meetings and a variety of sports-science features such as hydrotherapy machines and specialized speed-training rooms.
General manager Rick Spielman took best-practice notes from a number of college team facilities to help design the space.
Given the fans-ready stadium that's part of the plan and the trend around the league toward stay-at-home training, the big question for the Vikings is if or when they'll move summer two-a-day practices to their new digs.
They've gone about 80 miles south to Minnesota State University in Mankato for the past 51 years, one of only 13 teams in the league that travel off site for camp.
"We haven't had any discussions at all about that," Spielman said. "That's down the road, if we do move at all. I know Mankato's been great. It's been our home for 50-odd years. They do an unbelievable job down there, and that's why we've been there that long. But all of that will be determined down the road."
Eagan would undoubtedly welcome such a move. Even without it, the city is eager for the elevated profile that will come from housing an NFL team.
Mayor Mike Maguire beamed about the destination potential of the project, casually mentioning the hypothetical chance for people to see Bridgewater dining in an area restaurant some evening.
Vikings chief operating officer Kevin Warren said players could eventually choose to live full time on the site, at either a hotel or apartment once those stages of the development are done.
"I think what you'll see," Warren said "is a lot of teams that will come after us to say, `Wow."'