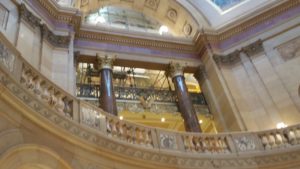 Anti-violence groups are turning up pressure at the State Capitol against a number of bills that would relax Minnesota's concealed-carry laws. The Reverend Nancy Nord Bence with Protect Minnesota says, "The idea of giving a lifetime permit to carry a gun when you have to renew your fishing license, what, yearly?  [That's] absolutely, dangerously, irresponsibly crazy."  The group also blasts bills they say would effectively eliminate the requirement for concealed-carry permits in Minnesota.
The groups are also upset about a renewed push at the legislature to change Minnesota's self-defense laws.  A bill would eliminate the legal requirement that a person retreat from danger before using deadly force to defend themselves.  Nausheena Hussain says,"It is terrifying that there are bills introduced that are allowing people who fear the cloth on my head or the color of my skin to be allowed to shoot me because they are afraid."  Supporters of the bill say a person shouldn't have to be backed into the corner of their home before they're able to defend themselves and their family.
Hearings have not yet been scheduled.
Here's Bence explaining her objections to four bills introduced at the Capitol:
Supporters of the bill were not immediately available to respond.