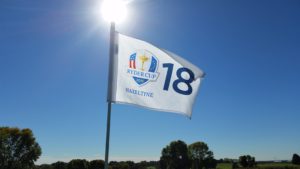 (story courtesy of Ryder Cup webpage — By T.J. Auclair)
With the 2016 Barclays in the books, two-thirds of Ryder Cup USA is now officially set.
Dustin Johnson, Jordan Spieth, Phil Mickelson, Patrick Reed, Jimmy Walker, Brooks Koepka, Brandt Snedeker and Zach Johnson — in that order — were the eight players who automatically qualified for the 2016 team when points closed on Sunday at the conclusion of the Barclays — the opening event in the PGA Tour's Playoffs.
"We have an extremely talented group of eight automatic qualifiers for this year's U.S. Ryder Cup team," Captain Davis Love III said. "Each has a real passion for the Ryder Cup."
The 46-year-old Mickelson will be making his 11th consecutive Ryder Cup start at Hazeltine National in Chaska, Sept. 30-Oct. 2, which is a U.S. record. He has been a member of two winning U.S. teams — 1999 and 2008 — over that stretch, which covers 21 years dating back to Oak Hill in 1995.
"Having Phil Mickelson, who's made a record 11 U.S. teams, will be incredibly valuable," said Love, who was also the U.S. Captain at Medinah in 2012. "Phil will be a leader for us both on and off the golf course at Hazeltine National."
The only top-8 qualifier making his debut for the U.S. is Koepka. Struggling through an ankle injury this summer that had him hovering on the bubble, the 26-year-old solidified his spot on the team with a T4 in the PGA Championship at Baltusrol, followed one week later by a T9 in the Travelers Championship.
"We're also thrilled to have Ryder Cup rookie Brooks Koepka on this team," Love said. "I can't wait to watch him experience his first Ryder Cup."
Dustin Johnson was the top point-getter for the U.S. over the past two seasons, thanks largely to his victories in two World Golf Championships (the 2015 Cadillac Championship and 2016 Bridgestone Invitational) and, most notably, his first major championship triumph in the 2016 U.S. Open at Oakmont. This will be Dustin Johnson's third Ryder Cup appearance overall and his first since 2012.
Spieth finished second to Johnson in points. Following a breakout 2015 season in which he won both the Masters and U.S. Open as well as finishing among the top 4 in the Open Championship and PGA Championship, Spieth also snagged victories in 2016 at Kapalua and Colonial, while also finishing tied for second in the Masters.
Spieth compiled a 2-1-1 record, collecting 2 1/2 points — second-best on the team — in his Ryder Cup debut at Gleneagles in 2014.
Reed started the Barclays at No. 8 on the points list, but catapulted to No. 4 with a win at Bethpage Black – the fifth of his PGA Tour career and first since January of 2015 – to lock up his second Ryder Cup USA bid. Reed was the star of the 2014 when, as a rookie at Gleneagles, he went 3-0-1.
Walker, winner of the 2016 PGA Championship — his first major victory — went 1-1-3 at Gleneagles, which was also his Ryder Cup debut. Walker joined Rickie Fowler as the only two Americans to play in all five sessions in 2014.
Snedeker will be making his second U.S. Ryder Cup team. He entered the Barclays at No. 6 in points — sneaking into the top 8 on the strength of a T5 in the RBC Canadian Open and a T3 in the Wyndham Championship — and wound up No. 7 after a T48 at Bethpage Black.
Snedeker played on the 2012 team right after winning that season's FedExCup and compiled a record of 1-2-1.
Zach Johnson, who had been in the top 8 since points began at the 2015 Masters, nearly slipped out of that position with his T48 finish at Bethpage Black, coupled with Rickie Fowler's blazing pace, taking a one-shot lead into the final round. When Fowler faded late on Sunday and finished T7, Johnson earned his spot on a fifth career Ryder Cup team and fourth in succession.
The 2015 Open Champion, Johnson is 6-6-2 in Ryder Cup play.
With the eight automatic qualifiers now known, attention shifts to Love's four Captain's Picks.
Traditionally, Ryder Cup USA Captains have announced all their Picks at once. Things are different this time around in an effort to include the hottest players not already qualified.
That means there are two key dates in the coming weeks. The first is Monday, Sept. 12, the day after the third leg of the PGA Tour Playoffs, the BMW Championship. On that morning at 10 a.m. ET, Love will hold a press conference at Hazeltine National to announce three of his four Captain's Picks.
Thirteen days later on Sept. 25 — the same day that the Tour Championship ends — Love reveals his fourth and final Captain's Pick.
The matches will tee off just five days later.