Fans in Oakland will have to wait a few more months before Kevin Durant gets a win over a Minnesota team.
In the meantime, they will look to enjoy another victory by the Oakland Athletics victory over the Minnesota Twins.
Oakland will try to remain unbeaten against Minnesota Tuesday night when the teams continue a three-game series at Target Field.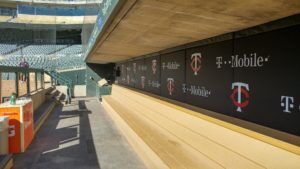 The Athletics have won all four meetings this season and the latest victory occurred Monday afternoon while the news of Durant signing as a free agent with the Golden State Warriors took center stage.
In Monday's 3-1 victory, the A's did not get anyone past first base for six innings and then scored three in the seventh. Stephen Vogt delivered an RBI single and Coco Crisp added a two-run single that extended his hitting streak to 11 games.
Crisp is batting .370 (17-for-46) during this streak and has eight walks, 12 runs scored, two homers and 14 RBIs.
If Oakland has a close lead late Tuesday, there's a good chance Ryan Dull would be entrusted with protecting it.
After Oakland scored its runs Monday, Dull stranded a pair of runners in the bottom of the seventh and has stranded 36 inherited runners this season, the longest streak to being a season since 1961.
"(It's) extremely significant," A's manager Bob Melvin said. "I don't know that there is (a stat) more significant. Guys are coming in the games to pick up someone else's base runners, that's the most significant stat. I know in our clubhouse, there's a lot of respect for what he's doing, certainly the pitchers."
"He's my favorite player on the team," Oakland third baseman Danny Valencia said. "He just shows up every day and does his job."
Similar to the last time they played the Athletics, the Twins were unable to follow up a successful weekend against a winning team. Minnesota followed up a three-game sweep in Seattle by scoring seven runs in three losses at Oakland May 30-June 1.
On Monday, Minnesota was even less productive. The Twins were held to four hits, went 0-for-8 with runners in scoring position and were held to three runs or less for the 35th time.
"It's just one of those days where one little hiccup was enough to change the outcome of the game," Twins manager Paul Molitor said.
After getting 6 2/3 effective innings from Kendall Graveman, the Athletics will turn to Sean Manaea, who will make his second start since being activated from the disabled list Wednesday. Manaea returned from his two-week absence and allowed six hits in 5 2/3 innings of a 7-1 win over the San Francisco Giants.
The left-hander began his career by going 0-1 with an 11.37 ERA and .382 opposing average in his first three starts. Since then, he is 3-3 with a 3.61 ERA in his last seven outings.
One of Manaea's three career wins was June 1 against Minnesota, when he allowed one run and five hits in six innings of a 5-1 win.
Tommy Milone will make his seventh start and third since returning from Triple-A Rochester June 18. Milone took a loss in New York June 18 and last week allowed five runs and nine hits over 3 1/3 innings during a no-decision at Chicago.
Milone's lone start against Oakland was July 19, 2015, when he allowed seven runs (five earned) in 2 2/3 innings.