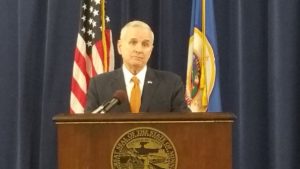 Governor Mark Dayton has renewed his push to clean up Minnesota's lakes and rivers, last week proposing a goal of 25 percent improvement in water quality by 2025. The legislature passed a controversial law two years ago tightening restrictions on runoff from ag lands — and we asked Dayton if he wants that buffer law toughened.  "If it's not perfect we can improve it, but I'm not gonna retreat from it," he says.
Dayton says he has other ideas for improving Minnesota's waters but wouldn't give specifics. The governor plans a series of town meetings next summer into fall which he says will help shape his proposal for the 2018 legislative session.
Dayton's push comes at a time when relaxing regulations is the order of the day under the new Trump administration. The governor argues, "Minnesota's progress is not dependent on the federal government, the E-P-A or anything else in this area. We've taken the initiative."  He points to the state passing a clean energy mandate a decade ago. He adds Minnesotans passing the Legacy Amendment in 2008 to increase the sales tax proves they care about clean water.
Dayton says more money by itself will not be enough to clean up Minnesota's lakes and rivers.  "It's gotta become an ethic," he says. "It's gotta be where everybody looks and says, this not right and it's my reponsibility to do something about it."
Excerpts from Dayton's media availability Friday at the U-of-M: