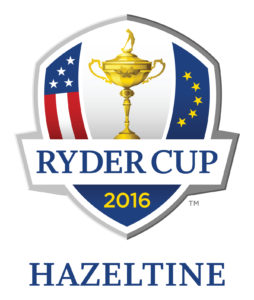 Rory McIlroy didn't think his 10th birthday could get any better.
His father took him to Royal Portrush in Northern Ireland for the first time. He also received a new wedge with a rust finish, popular back in those days. And he was on the chipping green when he got perhaps the best gift of all.
"All of a sudden, I meet Darren Clarke," McIlroy said Tuesday at the Ryder Cup. "It was a great birthday for me."
And that's what makes this week even more special at Hazeltine.
McIlroy took part in Clarke's foundation at Portrush, which was aimed at developing junior players. Clarke was a star in Northern Ireland, especially after 2000 when he took down Tiger Woods at his best in the 2000 Match Play Championship at La Costa.
"I remember him saying to me – I was chipping around the practice green and he was doing the same thing – and he just said to me, `Practice, practice, practice.' And that's always been his motto," McIlroy said. "That day has always stuck with me, and even this week, all those memories come rushing back."
This is the fourth Ryder Cup for McIlroy, who has yet to experience what it's like to lose on Sunday in singles or lose the Ryder Cup as a team. He doesn't want to see that streak end with Clarke as the European captain.
"I think it's special for both of us, that he is now a Ryder Cup Captain and I'm a player under him," McIlroy said. "I've always wanted the win for the captain, but probably even more so this year just because of Darren and the relationship that we have."
The best thing McIlroy has given Clarke so far is good form.
McIlroy was on the verge of falling out of the conversation of top players. He won the Irish Open at home in May, but he wasn't a factor in any of the majors, had slipped from No. 1 in the world a year ago to No. 5, and had yet to win on the PGA Tour, the strongest circuit in golf.
So much has changed in the last month.
McIlroy struck the ball so purely at the Deutsche Bank Championship that a good week of putting – finally – allowed him to rally for a 65 to win by two shots. Then, he had everything fall into place at East Lake on Sunday, playing the final three holes in 3 under and winning the Tour Championship in a four-hole playoff over Ryan Moore. That also made McIlroy the FedEx Cup champion for the first time.
He is not lacking for confidence at Hazeltine, where he tied for third in his PGA Championship debut.
"I'm confident in my game, I'm confident coming in here and I feel like I'm obviously playing pretty well," he said. "I don't know how much bearing it will have on the team as a whole. Obviously, I'm very excited to get going again and play, but just happy with where my game is.
"Never experienced a loss before, and that's the goal this week gain to take that cup home."
McIlroy has a 6-4-4 record, but he has been particularly strong in singles. He was on the verge of a loss to Stewart Cink at Celtic Manor that might have cost Europe the Ryder Cup. But he won the 15th hole to square the match, and earned a half-point when he got out of a bunker on the second try and saved par.
He forgot Chicago was in the central time zone in 2012 at Medinah and nearly missed his tee time, getting a police escort to the course, lacing up his shoes and beating Keegan Bradley as Europe rallied for another victory. Two years ago at Gleneagles, he was in the feature pairing against Rickie Fowler and crushed him from the start, winning 5-and-4 to build momentum early.
He does have one tiny piece of history working against him.
McIlroy is only the fifth player to win a PGA Tour event the week before a Ryder Cup, and only one of them – Fred Couples in 1991 – went on to have a winning record that week. Couples won the B.C. Open and then went 3-1-1 at Kiawah Island.
"Hopefully, I can continue to play the way I've been playing and produce quality shots under pressure like you need to in a Ryder Cup," McIlroy said. "That's all I'm focused on this week is just trying to play the best possible golf that I can and win the most points, and ultimately that will help the team do what we want to achieve."
###
Copyright © 2016
TTWN Media Networks Inc.