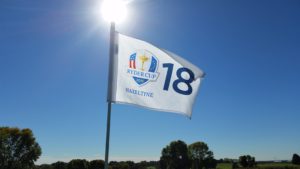 Phil Mickelson kept hearing the wrong tone of cheers coming from the 18th green, one after another, until he realized the singles match he was on the verge of winning would not prevent Europe from capturing the Ryder Cup.
This was 1995 at Oak Hill, where he went 3-0 in his debut at the most fervent, flag-waving, fanatical three days of golf.
Mickelson never could have imagined what would follow.
That was the start of Europe winning eight out of 10 times, a dominance so pronounced that the mighty Americans were reduced over the years to soul searching, finger pointing and ultimately creating a "Ryder Cup Task Force" to figure out why they usually have the best players but rarely win.
Maybe this time will be different. They seem to think that every two years.
"I think we have a completely different attitude and culture this time around," U.S. captain Davis Love III said.
Even though the Americans have won only twice in the last 23 years, they will be seen as favorites again when the 41st Ryder Cup starts Sept. 30 at Hazeltine National in Chaska, Minnesota.
The 11 players on the U.S. team – one more captain's pick will be announced Sunday night – are among the top 30 in the world, including U.S. Open champion Dustin Johnson, Jordan Spieth and PGA champion Jimmy Walker. They are playing on home soil and before the most raucous atmosphere in golf.
Love said on SiriusXM a week before the matches that "this is the best golf team maybe ever assembled."
Europe, led by Darren Clarke, has a pair of major champions in Danny Willett (Masters) and Henrik Stenson (British Open). Willett is a Ryder Cup rookie. Stenson has been taking it easy because of a nagging knee injury. Europe has five other rookies who will be experiencing this high-charged atmosphere before an American crowd.
The pressure, however, falls to the Americans.
Europeans quietly mocked the U.S. team for creating its task force, which included Mickelson and Tiger Woods, Love and former Ryder Cup captain Tom Lehman, all of them part of a losing culture in these matches.
The task force brought Love back as captain for the second time – he was in charge in 2012 when the Americans built a 10-6 lead going into Sunday singles and wound up watching another European celebration at Medinah. It extended the deadlines for making the four captain's picks, saving the last one until after the Tour Championship to make sure the Americans had the best players possible.
And it built a model geared toward continuity so that assistant captains could only be past captains or players considered to be future captains. Beyond that, it shifted decisions entirely away from the PGA of America so the players would be more involved.
"Look, we still have to play great golf to win," Mickelson said. "And we're still playing an incredibly talented team that has great players who shoot low scores. And we're going to have a tough task. But the difference is we're being put in a position to succeed because we're going in with a proper game plan and every opportunity to play our best golf, as opposed to creating challenges though the week to overcome."
Mickelson was largely responsible for this.
Europe had little resistance in winning two years ago at Gleneagles in Scotland, and the American team appeared to be more dysfunctional than usual. The PGA of America selected Tom Watson as the captain, even though he was 69 and had not been to the Ryder Cup since he was the winning captain in 1993 (the year Spieth was born).
Watson sat out Mickelson and Keegan Bradley all day Saturday.
During the closing U.S. press conference, with Watson sitting at the same table, Mickelson questioned why the Americans got away from a winning formula – in 2008 with Paul Azinger at the helm – and that Watson didn't listen to have any player input.
It was a bold move by Lefty, who put his image at risk with his public and blunt assessment of Watson.
Nearly two years later, two questions remain: Was it worth it? Will it work?
For all the talk about playing as a team, the nuances of foursomes (alternate shot) and making the right pairings, the Ryder Cup can be decided by the slimmest of margins. Europe won in 2012 on the strength of Justin Rose making a 45-foot putt that turned around his match with Mickelson. It won in 2010 mainly because Rory McIlroy escaped with a half-point against Stewart Cink. The 2002 Ryder Cup came down to Paul McGinley saving par on the final hole with an 8-foot putt (and Phillip Price, the No. 119 player in the world, beating Mickelson).
And now Europe is try to win for the fourth straight time, which would be its longest streak.
The United States still has a 25-13-2 record in the matches that date to 1927. The record, however, is misleading.
Britain was reeling for a decade after World War II, and it took another decade for professional golf to return to a high standard. The Americans went 10-1 in the Ryder Cup during that span. And it was another decade before continental Europe was allowed to play.
Dating to the modern era of the Ryder Cup in 1979, Europe leads the series, 10-7-1.
And all that time, Europe never had to create a task force.
###
Copyright © 2016
TTWN Media Networks Inc.