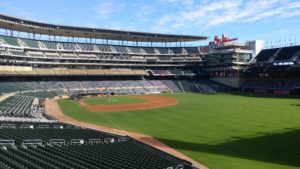 Struggling Freddy Galvis homered and drove in a career-high five runs to help the Philadelphia Phillies end a nine-game losing streak, beating the Minnesota Twins 7-3 Thursday.
Cesar Hernandez tied a career-high with four hits and slumping Ryan Howard homered as part of his first multiple-hit game since April 29.
The Phillies won for just the second time in 15 games. The Twins had won three in a row.
Jerad Eickhoff (5-9) gave up one earned run and five hits in six innings. In winning three of his past four starts, Eickhoff has allowed five earned runs in 24 2-3 innings. The last three Philadelphia wins over a 17-game span were all Eickhoff victories.
Looking to become the Twins first pitcher with four wins, Ricky Nolasco (3-5) allowed 10 hits and four earned runs in 6 2-3 innings.
Galvis entered the game in an 8-for-78 slide since May 31 that dropped his batting average to .211. He hit a no-doubt, three-run homer to right field off reliever Kevin Jepsen in the eighth inning to make it 7-2.
Galvis, whose sacrifice bunt in the fourth led to a Philadelphia run, had an RBI triple in the sixth to score Hernandez, who got on base by beating out a slow roller to first by stepping on the bag a split-second before Nolasco.
On the triple, Minnesota center fielder Byron Buxton, who crashed into the outfield wall making a catch Wednesday night, just missed making a similar play as he hit the padded surface and crumpled onto the warning track. He stayed in the game.
Brian Dozier's RBI double gave Minnesota a 1-0 lead in the first, but Howard homered and Cody Asche beat the throw home on a slow roller up the first-base line in the second to make it 2-1.
It's been a rough season at the plate for the 36-year-old Howard, in his 13th season in Philadelphia. In the 36 games between multihit games, Howard hit .095 with 41 strikeouts in 105 at-bats.