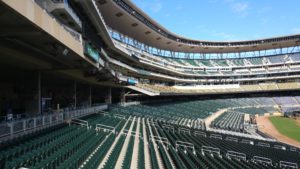 Continued dominance over the Minnesota Twins has allowed the Kansas City Royals to extend their resurgence.
The Royals can sweep the three-game set Wednesday by beating the Twins for a ninth straight time overall and in Minnesota.
Lorenzo Cain had four hits and Salvador Perez clubbed a two-run homer to help Kansas City (24-21) win for the seventh time in nine games, 7-4 on Tuesday.
"We try to keep the line moving," Cain said. "When we do that, we start to win ballgames more consistently."
The Twins (11-34) made things interesting by loading the bases with no outs in the ninth but failed to score.
"Just forced into trying to piece a game together the best we can," manager Paul Molitor said of the Twins, who have lost 11 of 12 at home.
With 17 runs and 30 hits in the first two of this series, the Royals have outscored Minnesota 46-17 in the last eight meetings. That's their longest winning streak ever against the Twins, as is their eight-game run in Minnesota.
Cain has hit .459 with 10 RBIs in his last nine at Target Field. Batting .368 over a 23-game stretch, Cain is 10 for 17 with four RBIs in the last four.
Perez, who had five hits in Monday's six-run victory, is batting .415 during a 10-game hitting streak. He is a lifetime .370 hitter at Minnesota with 10 home runs and 27 RBIs in 40 games.
"He just really does a good job at this park," Royals manager Ned Yost told MLB's official website.
With two more hits Tuesday, Paulo Orlando is batting .567 in his last eight contests.
The Royals might have a good chance to continue their offensive success in the series with a first look at Tyler Duffey (1-3, 3.30 ERA), who hopes to rebound after allowing six runs and nine hits over 5 2/3 innings of a 9-3 loss to Toronto on Friday.
He did not allow more than three runs in any of his first four starts.
"Instead of knowing what I could do, I was trying to be too fine with some breaking balls," the right-hander said.
Kansas City counters with Dillon Gee (1-1, 2.90), who allowed a run in five innings while throwing 92 pitches during Friday's 4-1 victory over the Chicago White Sox. It was the right-hander's first win since Sept. 12, 2014.
"Just try to prepare and help us win every game," said Gee, who was making his second start after his first seven appearances came in relief. "Whether I'm a starter or reliever, to eat as many innings as possible, and give us a good shot to win."
Gee, who threw two innings of scoreless relief against the Twins last month, won his only start against them in 2013 with the New York Mets as he gave up an unearned run in 7 2-3 innings.
Eduardo Nunez is 3 for 4 with two doubles against Gee but 1 for 14 in the last three games. Kurt Suzuki is 4 for 9 against him.
Eduardo Escobar had three hits Tuesday and is 8 for 19 against Kansas City this season with three RBIs. He has five in his other 24 games.
It's uncertain if Royals third baseman Mike Moustakas will miss a third consecutive game with a bruised knee.