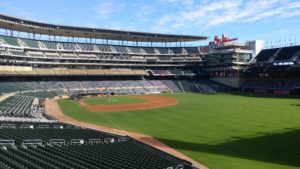 Both the Phillies and Twins have to be looking at their upcoming series against each other the same way — a chance to get some momentum against the worst team in the opposing league.
Following a miserable homestand that ended with a seven-game losing streak, the Phillies (30-41) head out to face a Twins squad that, at 21-48, is the only team in all of baseball with fewer wins.
Right now, Philadelphia's offense is almost dormant. They haven't scored more than three runs in any of their last seven games, and managed just one apiece in each of the last three. A club that was seven games above .500 in May is now 11 games below it and falling quickly.
"I believe we can (improve offensively)," manager Pete Mackanin said after a 3-1 loss to Arizona on Monday afternoon. "A lot of these guys were here last year and we hit better earlier in the season, so I know it's in there and I'd like to bring it out of them somehow."
"(It's) not anger but frustration," said Odubel Herrera, the team's leading hitter at .302; the next-best hitter is catcher Cameron Rupp (.264). "Our level of energy is high. We want to win."
They'll have their next chance on Tuesday, with young ace Aaron Nola (5-6, 3.51 ERA) looking to bounce back from the two worst starts of his career, going only a combined 6 2/3 innings while giving up 15 hits and 12 runs (10 earned) to the Nationals and Blue Jays.
Minnesota will counter with Tyler Duffey, who started the year strong (1-2, 1.85 ERA) but has struggled since. He's given up at least four earned runs in each of his last six starts, losing his last three decisions to drop to 2-6 with a 5.56 ERA.
The Twins ended a five-game slide of their own on Sunday with a 7-4 win over the Yankees before taking Monday off.
They're not quite as offensively challenged — their team batting average of .244 is still much better than the Phillies' 225 — they're looking for more pop in the lineup
Kepler, a 23-year-old Berlin, Germany native, went 3-for-4 on Sunday to run his hitting streak to six games, raising his average up to .243 after it had been as low as .125 at the beginning of the month. Over his last 10 games, he's hitting .316 (12-for-38) with two home runs and seven RBIs.
"Like I was taught and it's been preached a lot, the dumb baseball players are the best baseball players," Kepler told TwinCities.com. "When you have your mind shut off and the thoughts are completely aside the game, you just react to the stuff that you need to and it's usually a good day."