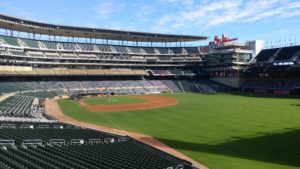 With three players riding impressive hitting streaks, the Kansas City Royals should feel confident about extending a lengthy series run without All-Star Alex Gordon.
Lorenzo Cain, Salvador Perez and Paulo Orlando hope to continue their offensive tear Tuesday night when the visiting Royals chase their seventh win in nine games as well as a franchise-record eighth straight victory over the MLB-worst Minnesota Twins.
Cain is hitting .403 with four homers and 11 RBIs over a 15-game road hitting streak after going 2 for 5 in Monday's series-opening 10-4 victory. The center fielder is batting .375 in his past 11 versus Minnesota and .406 in his last eight at Target Field.
Perez contributed a career-high five hits as Kansas City matched its longest winning streak against the Twins (11-33) since 1981-82. The All-Star catcher is batting .405 over a nine-game hit streak and is 11 for 19 in his last five games versus Minnesota.
"I think everyone is trying to do the best they can do. It's a long season," Perez said. "Sometimes it will be tough and sometimes it's a night like (Monday)."
Orlando also has been hot, going 15 for 26 with a home run, a triple and three doubles over a six-game hitting streak. The right fielder had three hits and two RBIs on Monday.
That certainly made things easier without Gordon, who will miss at least three weeks after suffering a broken wrist in a collision with third baseman Mike Moustakas on Sunday. Moustakas is day to day after sitting out Monday with a bruised knee.
Kansas City (23-21) will give the ball to Edinson Volquez (4-4, 3.79 ERA) as it also goes after a club-record eighth straight win at Minnesota. The right-hander hasn't been consistently sharp of late, going 1-4 with a 6.00 mark in his last five.
Volquez, however, is 3-1 with a 2.13 ERA in six games against the Twins. He limited them to two runs while striking out 10 over 5 2/3 innings in a 4-3 home win April 10.
Joe Mauer and Eduardo Nunez each went 3 for 3 off him in that contest. Mauer is 8 for 19 in the matchup, but Brian Dozier and Kurt Suzuki are a combined 2 for 25.
Mauer is hitting .459 in his last 11 versus Kansas City after going 3 for 5 with a homer Monday. Trevor Plouffe added three hits after going 0 for 16 in his previous four.
Minnesota, however, has averaged 2.8 runs over the last 10 of a 1-10 home stretch.
Ervin Santana, who pitched for the Royals in 2013, seeks his third straight strong performance. He allowed one run over six innings in a 6-3 win at Cleveland on May 14 before giving up two runs over eight in Thursday's 3-2, 11-inning loss to Toronto.
"It was a big game for me," the right-hander told the league's official website Thursday. "Especially when I was working down in the zone. It was good."
Santana (1-2, 3.13) has a 2.57 ERA over his last three starts versus Kansas City. He surrendered two runs and fanned seven over six innings in a 4-3 road loss April 8.
Moustakas went 2 for 3 with a double off him in that one, but Cain struck out in each of his three at-bats and he's 0 for 8 with six Ks lifetime in the matchup.