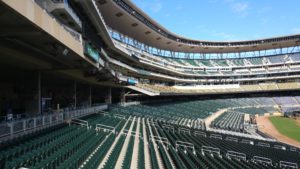 Minnesota Twins second baseman Brian Dozier is having an historic season individually, but his accomplishments are getting overshadowed by his team's lack of success.
In the first game of a Thursday doubleheader between Minnesota and the Detroit Tigers, Dozier set an American League record for most home runs by a second baseman. His first-inning homer was his 42nd home run of the year and 40th as a second baseman.
Dozier extended his hitting streak to 24 games in the early contest, tying him for the third-longest streak in Twins history. He also scored his 100th run, the third year in a row he reached that milestone.
Those accomplishments occurred in a 9-2 loss, and he went 0-for-4 to see his streak end during a 4-2 defeat in the nightcap.
The Twins slipped to a major-league-worst 55-98 as they close in on their first 100-loss season since 1982.
"It's unfortunate for him that he hasn't been able to celebrate a lot of those home runs with the losses," said Twins manager Paul Molitor.
As a team, the Twins don't have much to play for in the final stretch of the season — other than possibly spoiling other teams' playoff hopes. That didn't happen this week against Detroit as the Tigers swept the three-game series against the Twins. Detroit (82-72) grabbed a half-game lead in the race for the second AL wild-card spot.
Now the Twins host another team in the wild-card hunt. The Seattle Mariners (80-72) come to Target Field for a three-game series this weekend, and they reside two games back of the final playoff spot.
However, between the Tigers and the Tigers are two other teams. The Baltimore Orioles (82-71) are a half-game out, and the Houston Astros (81-72) are 1 1/2 games back.
"We're not dead," Seattle manager Scott Servais said. "We need help. And we need to play good ball in Minnesota. That's a team I don't take lightly. They handed us our lunch here (in Seattle) earlier in the year. They've got a lot of young players that play loose and free, and that's how we've got to play."
Mariners center fielder Leonys Martin told MLB.com, "We go to the road now, and we play good on the road. We just have to keep fighting and keep believing. We've got a chance. All September has been like the playoffs for us. We'll just keep playing and believing. That's the only way we're going to make it."
For a Twins roster laden with lots of young and inexperienced players, facing yet another team playing for its playoff life could serve as a teaching moment.
"Through all this, you try to find ways to be optimistic and find something to grab a hold of and observe each and every game, especially with the youth that we have," Dozier said. "This time of year, you can see it, especially the veterans. They do the little things right 100 percent of the time in order to win games. I hope (the youngsters are) observing this, a lot of people in here."
The series begins Friday with Mariners left-hander James Paxton (4-7, 3.88 ERA) opposing Twins right-hander Kyle Gibson (6-10, 5.10 ERA).
Paxton has just one win in his past eight starts, but he owns a respectable 3.51 ERA in that span. His lone career appearance against the Twins came last year, when he gave up one run in 4 2/3 innings.
Gibson owns just one victory in his past six starts, compiling a 5.66 ERA in that stretch. In his career, he is 2-1 with a 2.81 ERA in five starts against the Mariners.
###
Copyright © 2016
TTWN Media Networks Inc.