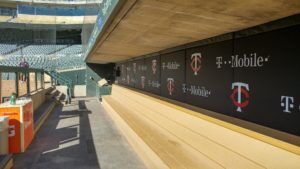 Toronto's struggles since taking the division title last season have been mirrored by Troy Tulowitzki, whose five All-Star Game appearances and two Silver Slugger awards have seemed rather distant lately.
The Blue Jays took a step forward and took out some frustration with a textbook win.
Tulowitzki drove in the go-ahead run with a two-out, two-strike single in the 11th inning Thursday night, and the Blue Jays stopped a five-game losing streak with a 3-2 victory over the Minnesota Twins.
"There was cheering, people pushing each other, positive thoughts, positive comments," acting manager DeMarlo Hale said. "Just, let's do what it takes."
Edwin Encarnacion's two-run home run tied the game in the sixth for the only big hit during a duel between Marco Estrada and Ervin Santana, who pitched eight innings apiece.
Estrada and Roberto Osuna (2-0) held the Twins hitless from the fourth through the 10th, and Joe Biagini worked the 11th inning for his first save with help from a shrewd throw to second base to catch Danny Santana stealing for the second out.
"We needed a win pretty bad," Estrada said. "I'm glad we were able to pull this off."
Ryan Pressly (1-3) gave up the one-out single to Encarnacion in the top of the 11th that set up the winning run, and Tulowitzki delivered against Fernando Abad to send the Twins to their 16th loss in the last 19 games.
"I feel good out there. I feel more like myself. I've hit a lot of barrels this last week. Hopefully I can continue that," said Tulowitzki, who has eight homers and 21 RBIs in 41 games but is batting only .196.
Tulowitzki nearly gave the Blue Jays the lead in the ninth, but Santana made a leaping catch of the long drive on the warning track to retire the side with a runner on second. As Santana slammed against the wall to stop his momentum, reliever Kevin Jepsen raised both arms in appreciation.
"It's not like I wasn't upset about that. A 410-foot ball, usually it leaves the park," Tulowitzki said.
Ervin Santana retired 13 consecutive batters and cruised into the sixth until a one-out walk to Josh Donaldson. Encarnacion followed, and with one whipsaw swing on a first-pitch fastball that caught too much of the plate, the dangerous designated hitter tied the game.
"He took advantage of that one. That was the only mistake," Santana said.
The ball landed in the second deck above left field, seemingly as quickly as it traveled from the mound to the plate. Encarnacion has seven homers and 18 RBIs with a .329 batting average in 20 career games at Target Field.
Estrada was even better than Santana, but the right-hander was stuck with his fourth straight no-decision. He's receiving a paltry average of 2 1/2 runs per game over eight starts this season.
Second baseman Jimmy Paredes, who joined the Blue Jays this week after being claimed off waivers from Baltimore, committed a damaging error in the first inning when he let a groundball through his legs with one out that led to a run. Joe Mauer pushed the lead to 2-0 with a two-out single in the third, but Estrada locked down the Twins after that.
He struck out nine with three hits and a walk, effectively using his changeup against righties and lefties.
"He's got a nice mix," Twins manager Paul Molitor said. "He knows how to pitch."