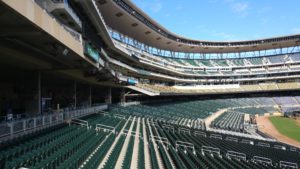 The Kansas City Royals couldn't finish off a sweep in their latest road series but likely won't complain considering their recent woes away from home.
The Royals can put those further behind them as they look to match their longest win streak against the Minnesota Twins and longest in Minnesota on Monday night.
Kansas City continued its promising results in the opening games of its road trip, taking the first two against the Chicago White Sox this weekend. The Royals fell 3-2 on Sunday for just their second loss in seven contests.
Kansas City (22-21) had dropped 12 of 15 on the road before visiting Chicago.
"It was a nice series. You always want to win the series. That's your No. 1 goal," manager Ned Yost said. "We were in a position to sweep them, but (White Sox starter Carlos) Rodon did a nice job."
The Royals can rebound by earning a seventh straight victory over Minnesota. They swept three matchups at home April 8-10 to put them on the verge of tying the club-record win streak against the Twins set from 1981-82.
Kansas City can also win seven in a row at Minnesota for the third time in franchise history. The Royals' two other such streaks came in 1998-99 and 2013.
Minnesota (11-32) endured its ninth loss in 10 home games Sunday, 3-1 to Toronto. The Twins snapped a lengthy skid at Target Field and a five-game overall losing streak with a 5-3 victory Saturday.
Ian Kennedy (4-3, 3.24 ERA) won 7-0 over Minnesota in his debut for Kansas City on April 9. He yielded two runs in 5 2/3 innings and struck out a season-high nine against Boston on Wednesday, but did not get the decision in a 3-2 win.
Kennedy will pitch opposite Ricky Nolasco, 0-2 with a 6.21 ERA in his last five starts. The fellow right-hander gave up four runs – two earned – and nine hits in five innings of a 6-3 loss at Detroit on Wednesday.
Nolasco (1-2, 4.74) allowed one run and three hits in seven innings against Kansas City in his season debut April 10. He received a no-decision in a 4-3 loss and continued his odd performance pattern against the Royals.
Nolasco has allowed one or no runs in four of his seven matchups and five runs in each of the other three games, alternating those efforts throughout his career.
Joe Mauer is hitting .432 in his last 10 games against Kansas City but .137 in his last 14 overall. Minnesota has batted .181 with 16 runs in its last six contests.
"It's tough," manager Paul Molitor said. "You can only do so much as far as how you're going to change it up and get people in there to try to spell some people, to try to get them going."
The Royals' Lorenzo Cain has batted .371 in his past 10 games against the Twins and .407 in his last seven in Minnesota. Cain has posted a .337 average while recording at least one hit in 20 of his last 22 contests, but is 1 for 11 with four strikeouts against Nolasco.