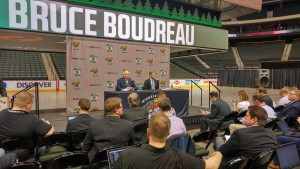 Bruce Boudreau's teams have been remarkably consistent and successful over nearly a decade on the bench in the NHL.
They've also had a history of early exits from the playoffs. Otherwise, the 61-year-old coach would not have been available to the Minnesota Wild.
Though the Wild have qualified for the postseason four straight times, this is a bunch that is badly in need of stability after several years of sudden sharp turns along the chase for a championship.
"They need a different voice," general manager Chuck Fletcher said, "and Bruce's experience, as well as his tremendous passion for the game and his hockey IQ, I believe will allow him to push this group to heights they haven't been to yet."
Fletcher said he tried not to "over-think" the decision once Boudreau became available following his firing by Anaheim. He has the highest winning percentage among active NHL coaches, with eight division titles in nine years beginning with Washington in 2007-08.
As fans of the Ducks and Capitals would quickly mention, of course, Boudreau has won only five series in the playoffs. His Game 7 record is 1-7, with all the losses coming on home ice.
"Hey, I'm fully aware. I've been in the business for over 40 years. I know the way this works, and we're in a winning business so you have to win," said Boudreau, who has a four-year contract.
Fletcher, who fired Todd Richards after two seasons and Mike Yeo more than halfway into his fifth, also considered interim coach John Torchetti, whom he lauded for steering the Wild into the playoffs last month after replacing Yeo.
"They're good coaches, but for whatever reason the buy-in wasn't there consistently," Fletcher said, "and that's what I hope to change with this."
With accomplished, expensive and experienced leaders in Mikko Koivu, Zach Parise and Ryan Suter, and a core of 25-and-under players like Charlie Coyle, Mikael Granlund and Jason Zucker who haven't hit their potential, Boudreau will have personalities to manage and plenty of talent to tailor his systems to.
"With his resume, with his communication skills and with our team, he'll have instant credibility with our players," Fletcher said.
The Wild might have hit a ceiling with their current roster, reaching the second round twice in four years. They've never played well enough during the regular season to get one of those high seeds, often just desperately trying to play their way in down the stretch.
The round-faced man with the nearly receded hairline known for a sense of humor as well as profane intermission pep talks will aim to reverse that trend.
"The people that manage people the best usually get them to work the hardest," Boudreau said.
How?
"My personality, I think, helps a lot. I think they see that I'm pretty passionate," Boudreau said, adding: "I think of myself as the complete average man, so if it works on me, it will work on somebody else."
The Wild have never been higher than 12th in the league in goals, in 2014-15 under Yeo, the only time in franchise history they've finished in the top half. Boudreau's teams have had a penchant for scoring, though there's no Alex Ovechkin or Corey Perry here like he had in Washington and Anaheim.
"You don't need those guys to survive or to win," Boudreau said. "I think we can do it the old-fashioned way."
Adaptation, then, will be as important as communication.
"It's clear he's a great coach and any team is lucky to have him," Capitals defenseman Karl Alzner said. "They obviously know that by going after him right away. It's going to be scary to think of how good Minnesota can be defensively now with Bruce's ability to get offense out of a team. It's going to be interesting to see."
There's hardly a better personification of the hockey lifer than Boudreau, who has played for or coached two-dozen different professional teams, from Adirondack to Anaheim and points in between. He even appeared in the 1977 cult classic film "Slap Shot." He said he still laments his lack of dedication to his NHL career, realizing years later how much better he could have been as a player.
His news conference was held Tuesday on the bare floor of Xcel Energy Center, the arena that replaced the St. Paul Civic Center the Minnesota Fighting Saints once called home. Boudreau skated one season for the World Hockey Association club, which drafted the Toronto native in the first round in 1974.
"This is the last place I'm going," Boudreau said. "I told my wife I'm going to say here for as long as they want me, and I hope it's a long time."