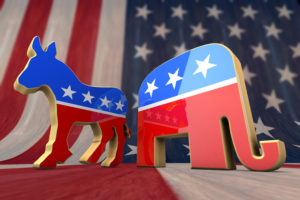 On this election day, Hamline University political analyst David Schultz says national polls show Hillary Clinton with a slight lead of two or three points over Donald Trump.  But Schultz says, "The more critical thing to look at is the fact that, in critical swing states across the country, she seems to be holding sufficiently that she'll get to the 270 electoral votes [needed to be elected]."  Schultz indicates it's a long shot for Trump, who has to win North Carolina, Ohio, Florida and a few others — but Schultz says, "There could be that surprise that Trump has been hoping for, where we get large percentages of people who were not expecting to turn out to vote, to pull it off."
All of Minnesota's eight seats in the U-S House are up for election as Minnesotans to the polls today.  Democrat Rick Nolan faces a tough challenge from Republican Stewart Mills in the 8th District in northeast and north-central Minnesota. Carleton College analyst Steven Schier says, "This is Trump territory now, and that may actually make a difference in giving Stewart Mills the edge over Rick Nolan, but it'll be a very close contest in any event."  In the 2nd District, from the southeast Twin Cities suburbs down through Goodhue and Wabasha counties, analysts give Democrat Angie Craig an edge over Republican Jason Lewis, noting Craig has raised a lot more money for her campaign.
In the 1st District in southern Minnesota, Democratic incumbent Tim Walz is favored over second-time challenger Jim Hagedorn. In the 6th District in central Minnesota, analysts predict Republican Tom Emmer will turn back a challenge from Democrat David Snyder. And in the 7th District in western Minnesota, it's expected Democratic incumbent Collin Peterson will handily defeat Republican David Hughes.
And every seat in the Minnesota House and Senate is up for election today.  Republicans want control of the Senate, but Hamline University political analyst David Schultz says that would take "beyond a perfect storm."  Schultz says there are "probably less than 10 seats in the Senate that are really in play. The Republicans would have to just about run the table on most of those seats."  Schultz says the situation is almost the reverse in the Minnesota House, currently controlled by Republicans. "The Democrats would need a near-perfect storm also to be able to take back the House of Representatives," he says.  Schultz says Democrats had some chance to do that, but then Governor Mark Dayton said the Affordable Care Act is no longer affordable.
Here's an extended interview with Professor Schultz:
And a long-form interview with Professor Schier: