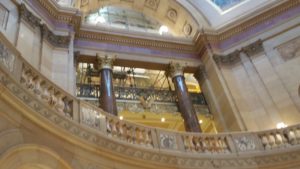 The Republican-controlled Minnesota Senate by a vote of 35-31 has passed legislation that would provide state-paid help for those hit with large increases in health insurance premiums.  Premium reductions would be dependent on income.  Democrats warn implementing such a system will take months and cost tens of millions of dollars, and could delay until next year relief actually getting to Minnesotans.
Republicans' bill also has first-step reforms to health insurance.  Elbow Lake Senator Torrey Westrom says, "We have a flat tire in our health care system and the Democrats just want to add air. And you know what will happen? It will be flat again next year, and the same citizens… will have the same problems a year from now."  Democrats respond reforms are too complicated to do quickly and could further delay relief on health insurance premiums.  Saint Louis Park Senator Ron Latz says, "To spend 20 million dollars to save 23 million dollars, and delay the relief for a whole year? To accomplish almost nothing? Where's the advantage to that?"
It's expected the Republican-controlled Minnesota House will pass their bill next week.   The Senate and House would then likely begin conference committee negotiations with Governor Dayton.  It's difficult to predict how soon they might reach agreement.