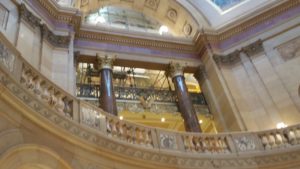 The Republican-controlled Minnesota Senate last night passed a budget bill that would decrease funding for state agencies 2.8 percent overall, for total spending of 802 million dollars. Governor Mark Dayton warned Republicans against across-the-board cuts, but Senator Mary Kiffmeyer from Big Lake argues the bill takes "a very thoughtful approach" to state agency funding.  "Some of them had a 7.5-percent reduction…, others had a four- to five-percent," Kiffmeyer says.  "Some of them that are in my budget, such as the advisory councils, ethnic councils, minority councils,… didn't get an increase nor a decrease."
The Senate early this morning also passed a jobs and energy bill, and debated a bill to fund environmental programs.
Today is a very busy day at the legislature as lawmakers debate and vote on a number of major bills. The House takes up Republicans' tax cut bill, plus an environmental funding bill and a controversial health care "reinsurance" measure.
The Senate has an even fuller plate today: On the floor there will be debates and votes on funding bills for agriculture programs and transportation, plus controversial bills dealing with REAL ID drivers licenses and reinsurance.