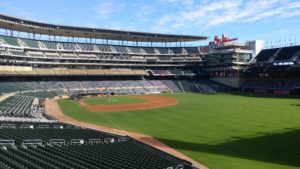 (Bison Sports)  —  North Dakota State University and the Minnesota Twins today announced that the NDSU football team will host Butler University at Target Field in Minneapolis on August 31, 2019. It will be the first meeting between the two schools.
"The Minnesota Twins are excited to play host to NDSU-Butler at Target Field," Twins President Dave St. Peter said. "The powerful tradition of NDSU football should create a special atmosphere within the ballpark. I have no doubt Bison Nation will be headquartered in the Twin Cities that weekend."
NDSU has more than 12,000 alumni in the Minneapolis-St. Paul area and nearly 26,000 alumni across Minnesota. The game is the season-opener for both teams and is Saturday of the Labor Day weekend.
"We are thrilled to bring Bison football to the Twin Cities," said NDSU Director of Athletics Matt Larsen. "The opportunity for our players, fans and alumni to experience football at Target Field will be memorable. We are grateful to Dave St. Peter and the Minnesota Twins organization for making this a reality."
The 2019 calendar allows for a 12-game regular season in the NCAA Football Championship Subdivision. NDSU will have its customary six home games at Gate City Bank Field at the Fargodome in addition to the Target Field game and five road games.
"Bison Nation is well represented in the Twin Cities," added NDSU head coach Chris Klieman. "Having this opportunity will be exciting for our team to play in front of our fans in such an incredible venue. It will also aid us in recruiting, as Minneapolis-St. Paul is one of our most prominent recruiting areas."
Complete ticket information will be available at a later date. Tickets to the Target Field game will not be part of NDSU's season ticket package, but season ticket holders will have an opportunity to purchase in advance of the general public. Student tickets will be available for a discounted price.