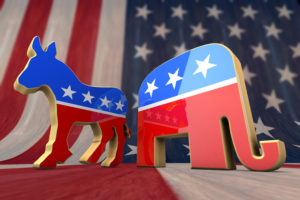 Talk show host Jason Lewis took nearly 50 percent of the vote in Tuesday's Republican primary in the Second Congressional District, besting his three G-O-P rivals Darlene Miller, John Howe and Matthew Erickson. Lewis faces Democrat Angie Craig in November, who says, "I spent the last part of two decades helping lead… medical device manufacturing companies in creating jobs, and Jason Lewis talked at people." Lewis responds, "Well now she [Craig] wants to go to Washington to do what? To talk at people. Look, we will go toe-to-toe with Angie Craig on every single issue." Lewis warns Craig will put people out of work at Pine Bend Refinery because she latched onto President Obama's global climate initiative.
Listen to Scott Peterson's interview of Angie Craig:
Listen to Bill Werner's interview of Jason Lewis:
In the First Congressional District, Republican-endorsed candidate Jim Hagedorn won handily (76 percent to 24) over challenger Steve Williams in Tuesday's primary election and now goes up against incumbent Democrat Tim Walz for a second time in November. Hagedorn says when he first ran two years ago, ISIS wasn't even a real issue in the campaign, but now Islamic terrorism is front and center. He says, "We need a refugee program time-out because "Minnesota has a terrorist recruiting problem from existing refugees from Somali and other places." Hagedorn accuses Walz of being part of the "Obama-Clinton regime" that has looked the other way. Walz wasn't immediately available to respond.
Listen to Bill Werner's interview of Jim Hagedorn:
Iron worker and labor activist David Snyder is the Democratic candidate for Congress in Minnesota's Sixth District (with 46 percent of the vote) after beating challengers Judy Adams (37 percent) and Bob Helland (17 percent) in Tuesday's primary election. He'll face incumbent Republican Congressman Tom Emmer this November. Snyder says, "My opponent and his party believe that having you work for less will benefit the economy. Maybe their economy will improve, but not our economy." Meanwhile Emmer trounced two G-O-P challengers, A-J Kern and Patrick Munro with 69 percent of the vote in Tuesday's primary. Kern had 26 percent and Munro five percent of the vote.
Listen to Bill Werner's interview of David Snyder:
Pilot instructor and retired Air Force officer Dave Hughes is the Republican candidate for Congress in Minnesota's Seventh District after besting rival Amanda Hinson 59 percent to 41 in Tuesday's primary election. Hughes goes up against long-time Congressman Collin Peterson in the fall election. He says, "I think maybe for a long time Collin Peterson has gotten away with running as not a U-S representative of District Seven, but like the U-S king of agriculture of District Seven." Hughes says agriculture is the most important sector in the Seventh District, but Peterson hasn't responsibly represented the district on other issues. Peterson was not immediately available to comment.
Listen to Bill Werner's interview of Dave Hughes: