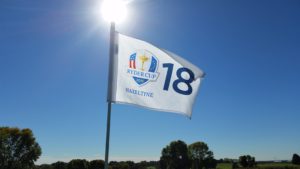 The U.S. has done almost everything to try and win a Ryder Cup again, including having Tiger Woods on the team as an assistant captain.
So maybe bringing in Michael Phelps for an inspirational speech wasn't too far of a stretch. Like Woods, he does know a little something about winning.
"We had a very exciting talk from Michael Phelps," U.S. captain Davis Love III said. "Michael talked to us a lot about the Olympic experience and Team USA and how much fun it was for him to have the four American golfers down there because he's such a big golf fan."
Phelps might not be the last inspirational speaker the 12 players on the U.S. team hear this week. Ever since former President George W. Bush helped rally the 1999 team to a comeback victory, they've become extremely fashionable.
Love might even take a few tips from the speakers of past and present when he sends the team out Friday to try and break yet another losing streak in the Ryder Cup.
"I don't think I'm going to tell you what I'm going to tell them," he said, "but if I was a football coach or a motivational coach, I'd tell my team that they are very, very good and to go play their best."
Actually, Love already did that in comments last week when he suggested this might be the greatest golf team ever. That certainly perked up the ears of the Europeans, who have won eight of the last 10 Ryder Cups despite being decided underdogs in most of them.
"At the end of the day, you don't win Ryder Cups with your mouth, you know," Sergio Garcia said. "You win them out there on the golf course. So that's what we'll see, which team is the best."
The Europeans are making no changes in the motivation department this time around, though, bringing in retired Irish rugby star Paul O'Connell to speak about the importance of teamwork on the pitch.
Here's a look back at a few motivational speakers in the Ryder Cup:
REMEMBER THE ALAMO: The U.S. was getting beaten badly at Brookline Country Club, down 10-6 to the Europeans heading into the Sunday singles. Captain Ben Crenshaw gathered his charges the night before and brought in Bush, then governor of Texas, to try and inspire them to an improbable comeback.
Bush didn't really give a speech. He simply read the famous letter from the commander of the Alamo in 1836 that ended with "victory or death." It wasn't quite that extreme, but the U.S. players went out and won the first six singles matches en route to a comeback win that had players running around and screaming in glee at the 17th hole when the Cup was clinched.
AILING SEVE: Seve Ballesteros was one of the best Ryder Cup players ever, a pivotal figure in turning the tide against the U.S. team. In 2010 he was recovering from surgery to remove a brain tumor, but captain Colin Montgomerie still wanted him to be part of the team.
Before play begin at Celtic Manor in Wales, Ballesteros spoke by phone to the European team, which promptly went out and reclaimed the cup from the U.S. "The whole team spoke to Seve for about 10 minutes and that was very motivational, very passionate and also very sad to hear him, to hear the way he is," Montgomerie said. "Seve is our Ryder Cup and always will be."
Ballesteros would die a few months later in his native Spain at the age of 54.
MAJOR DAN: The same year Ballesteros spoke to the Europeans, U.S. captain Corey Pavin had a National Guard F-16 pilot try and pump up his team. Major Dan Rooney, who is also a PGA professional, taped a
message to the U.S. team that won in 2008 and gave an inspirational talk to the 2010 U.S. team. News of his speech led some in Europe to claim the U.S. was equating the Ryder Cup with combat and glorifying war. The tactic didn't work, anyway, with the U.S. losing in rain-soaked matches.
SIR ALEX: Europe used a speech by Sir Alex Ferguson, the longtime Manchester United leader, to win the cup in Scotland the last time out. Ferguson urged Europe's golfers to adopt the Old Trafford mentality his team used to win its matches, and he found a willing audience.
"I was just sitting there and looking up at him, and I didn't take my eyes off him," Rory McIlroy said. "I was sort of in this trance just listening to everything that he was saying and I'm sort of thinking, this is all the stuff that he's probably said to Manchester United teams over the years."
###
Copyright © 2016
TTWN Media Networks Inc.