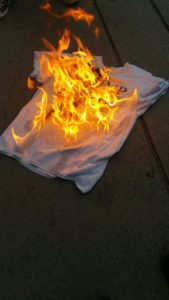 State Republicans are calling for a response and apology from Democrats and Minneapolis Mayor Betsy Hodges after reports of violent behavior against attendees at a Donald Trump fundraiser on Friday.
Minnesota GOP Chair Keith Downey says Democrat Party Chair Ken Martin needs to "apologize for and denounce this disgusting display of bullying and physical confrontation." And he says Mayor Hodges needs to answer for why attendees were not better protected.
In response, Martin says "Friday's protest at the Minneapolis Convention Center was not organized or advertised by the DFL Party." Martin goes on to say the party supports "the right of protesters to gather peacefully but what happened on Friday night crossed the line. There is no excuse for violence in any form." He adds, however, "the cynical attempt by the GOP to exploit the actions of a few protesters for political gain is transparently obvious."
Downey calls Martin's statement "inadequate" and a "pseudo apology."
So far, no arrests have been made related to the incidents at the fundraiser.