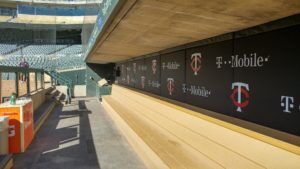 MINNEAPOLIS — Detroit Tigers manager Brad Ausmus left Tampa Bay fuming about his team's defense after being swept by the Rays.
Minnesota Twins manager Paul Molitor lamented his team's lack of scoring after being swept by the Cleveland Indians.
The two American League Central foes will try to solve their recent issues against each other with a three-game series starting Friday.
Detroit committed an error that led to a run Thursday in an 8-1 loss at Tampa. The Tigers had lost a night before on a walk-off because of an error.
"It was just misplays. Quite frankly, it's got to get better," Ausmus said. "If it doesn't get better, there will be changes. … These are big-league players. They should be able to make these type of plays. There are occasions where the roof comes in play … but we can't make that many mistakes."
Minnesota scored seven runs in losing the three games to Cleveland. The Twins have 15 runs in going 1-5 on the current homestand after returning home with an early 6-3 record.
"We've got to get bigger hits with guys in scoring position," Minnesota second baseman Brian Dozier said. "That's the bottom line. The main thing: We're taking good at-bats with guys on base; they're just not falling. It's 15 games in. I'm not worried."
Scoring could be tricky on Friday as Justin Verlander starts for Detroit. Verlander (1-1, 5.71 ERA) gave up nine runs on 11 hits in his last outing, a loss to the Indians. But the right-hander has won 12 of his last 13 decisions against Minnesota, with a 2.31 ERA and 140 strikeouts in 124 2/3 innings since July 9, 2010.
Dozier and Molitor don't believe the offensive players are pressing during the tough homestand.
"I think it's a little too early to think anybody's overly pressing," Molitor said. "We've dissected a few of our guys more than others. But our contributors, it hasn't been top to bottom very often, and we're just trying to find a way to get some of these guys going."
On one side, right fielder Max Kepler has an eight-game hitting streak and six RBIs during that stretch. On the other side, center fielder Byron Buxton is hitting .082 and has struck out 24 times in 49 at-bats.
Minnesota's Joe Mauer had a double on Thursday for his first extra-base hit of the season.
"We've got to do a better job of manufacturing runs," Dozier said. "When we have people on the ropes, that's the deciding factor. You don't win games each inning. When you have them on the ropes, you score as many runs as possible to get to the bullpen early. And we didn't do it. We haven't done that the past few games."
The Twins will have left-hander Hector Santiago (1-1, 1.47 ERA) make Friday's start. Santiago lost to the Tigers on April 11, when he gave up two runs in 6 1/3 innings. Detroit took the first two games of that series before Minnesota won the finale with a season-high 11 runs.
Anywhere other than Tampa Bay might be a good sight for the Tigers. Ian Kinsler's leadoff home run gave Detroit the lead, but the error in the bottom of the inning led to a quick tie. The Rays went on to hit three homers in the game.
"I'm glad to move on, but I'm not real happy right now," Ausmus said.
He added about the defense: "I'll be honest: This was the worst defensive series I've seen the Detroit Tigers play since I've been here. It'll stop. Part of it is probably attributed to the roof. It was awful. It cost us pitches, it cost us runs and it cost us games."
After the game, Detroit optioned reliever Warwick Saupold to Triple-A Toledo. Saupold allowed each of the three home runs. The Tigers announced they will recall left-handed reliever Blaine Hardy before Friday's game.
Detroit was without outfielder Justin Upton and shortstop Jose Iglesias on Thursday. Upton has missed two games with a bruised right wrist. Iglesias was hit in the jaw on the final play Wednesday and could be facing a trip to the disabled list.
###
Copyright © 2017
TTWN Media Networks Inc.