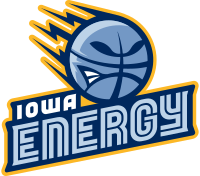 The Minnesota Timberwolves purchased the majority ownership of the Iowa Energy on Monday and will begin a direct affiliation with the NBA Development League team next season.
Subject to finalization, Minnesota would become the 18th NBA team to own and operate a D-League affiliate.
"We're thrilled to bring the Iowa Energy into the Timberwolves family," Timberwolves owner Glen Taylor said in a statement. "It's great knowing that we can develop our young players so close to home and enjoy all the other benefits that come with owning a D-League team. We look forward to growing our relationship with the greater Des Moines area, the state of Iowa and basketball fans across the Upper Midwest."
The Energy's current hybrid partnership with the Memphis Grizzlies will come to an end at the conclusion of the 2016-17 season. Prior to their partnership with the Grizzlies, the Energy were affiliated with seven NBA teams between 2007-2014, including serving as Minnesota's affiliate for the 2013-14 campaign.
"It's an exciting time in the NBA D-League as we welcome Glen Taylor and the Minnesota Timberwolves to our ownership ranks," NBA D-League president Malcolm Turner said in a statement. "The Timberwolves are the latest in an ever-growing list of NBA teams that recognize the value an NBA D-League team brings to a franchise — a trend I'm confident will continue as the league grows to 30 teams."
Jed Kaplan, who led the acquisition of the Energy in 2014, will continue as a partner and will remain active in the management of the team.
"Today is a great day for Iowa basketball," Kaplan said. "I'd like to thank (owner) Robert Pera and the Memphis Grizzlies for their stewardship of the Energy these last few years. I am honored to become a partner with an individual I hold in such high esteem as I do in Glen Taylor. Through his ownership of the Minnesota Timberwolves and Lynx, Glen has showed time and again his commitment to growing the game of basketball as well as the NBA as a whole."
The Energy captured the 2011 NBA D-League Championship. The team will continue to play 24 home games at Wells Fargo Arena in downtown Des Moines, the Energy's home since their inaugural season in 2007-08.
Four current Timberwolves have NBA D-League experience: Cole Aldrich, Tyus Jones, Shabazz Muhammad and Adreian Payne.
More than 40 percent of players drafted into the NBA since 2005 have spent time in the D-League, including half of the players selected in 2016 draft, according to the NBA. This season, more than 70 NBA players have spent time on assignment in the D-League.
###
Copyright © 2017
TTWN Media Networks Inc.