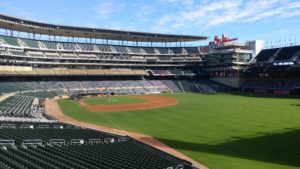 MINNEAPOLIS — The Houston Astros are having a lot of fun. The Minnesota Twins are trying to figure out how to recover from two tough losses.
The feeling surrounding both teams seems very different right now, but both are still sitting in first place as they meet on Tuesday.
"We're always having fun," Houston shortstop Carlos Correa said after the Astros came back from an 8-2 deficit on Monday to beat Minnesota 16-8. "We're having a great season. We're not going to let one game bring us down.
"At the same time, we want to win every single game. It doesn't matter what the score is, we're going to keep putting great at-bats together, and I think that's what we did tonight."
The Twins' overworked bullpen allowed a franchise-record 14 runs. The Astros were flying high after an 11-run eighth inning gave them a seventh win in eight games.
Frustration and elation marked the first game of the series.
"We'll find out," Minnesota reliever Ryan Pressly said of how the team bounces back after the Monday loss. "But it's a good group of guys out here. We've got a way to keep bad stuff out of our minds and just keep grinding."
The Twins were coming off a 15-inning loss on Sunday to the Tampa Bay Rays. Yet despite the two defeats, Minnesota (26-21) still leads the American League Central by a game over the Cleveland Indians.
Houston (36-16) owns the major leagues' best record and is a major-league-best 16-6 on the road. The Astros hold an 11-game cushion in the AL West.
If things weren't going well enough for the Astros, they now believe they can draw on Monday's comeback as they continue this season.
"Moving forward, we've got to know that we're never out of a game," outfielder Josh Reddick said. "This is one game we're going to have to look back to the rest of the year."
The reverse could be true for the Twins.
"Time will tell," Twins manager Paul Molitor said regarding whether the team will experience a hangover from the Monday loss. "I know that we're still having to maneuver our bullpen differently because of how they've been used here the last couple days."
Houston will start Mike Fiers (1-2, 5.21 ERA) on Tuesday. The right-hander is getting a second chance in the rotation after Charlie Morton went on the disabled list.
Fiers was moved to the bullpen to make room for Monday's starter, Brad Peacock, in the rotation, but Fiers was back as a starter a day later because of Morton's injury.
"He's come out of a few games early, that will give him an indication that I feel like he's struggled a little bit," Astros manager A.J. Hinch said of talking with Fiers about going back to a starting role. "When you have the conversation that I had with him about coming out of the rotation, he knows he's pitching to keep his spot in the rotation.
"Putting him back in there, the hard conversation was more pull him out of the rotation, keeping him motivated, giving him a few things to work on in order to get back in the rotation.
"And then circumstances made it to where he was back in the rotation in 24 hours. I don't want him to forget some of the things that we talked to him about that he needs to do better.
Fiers is 3-1 with a 3.16 ERA in seven career games, six starts, against Minnesota. In two outings against the Twins last season, Fiers allowed eight runs in 9 2/3 innings.
The Twins' hopes of turning their fortunes quickly are on the right arm of young Jose Berrios.
The team's top pitching prospect, Berrios has dazzled in three starts since being recalled from Triple-A, going 3-0 with a 1.66 ERA. He has struck out 22 and walked just four in 21 2/3 innings.
Berrios has also worked into the seventh inning in each of his three starts, which helps Minnesota's bullpen.
He lost his only career start against Houston, allowing six runs in two innings on Aug. 11, 2016.
Minnesota could be without center fielder Byron Buxton, who left the Monday game with a cut on his left ring finger. X-rays were negative.
"It could've been worse than it was, so I'm blessed and thankful that it's only a laceration," Buxton said. "Hopefully, the swelling will just go down and I'll be back out there tomorrow."
###
Copyright © 2017
TTWN Media Networks Inc.