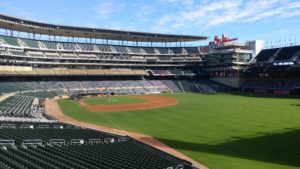 MINNEAPOLIS — Two young pitchers will try to establish themselves as they take the mound Friday at Target Field.
Right-hander Dylan Covey will make his major league debut for the Chicago White Sox, while Minnesota Twins left-hander Adalberto Mejia will make his third career appearance and second start.
Mejia's first career start was last week against the White Sox in Chicago, where he gave up three runs (two earned) in 1 2/3 innings. Mejia (0-1) allowed two hits, walked two and hit a batter.
"If you look at the numbers and the shortness of the (first) appearance, it might appear he had a rough day," Minnesota manager Paul Molitor said. "I didn't think that was the case. He got in a situation where we didn't make a couple of plays. As a young guy out there, he started to try to throw it harder instead of maybe trying to throw it a little smarter.
"He's got really good off-speed stuff, and we didn't see a lot of it. He just had to endure a really long inning and couldn't get off the field. I didn't want to push it too far, being the first start of the season. I've got a lot of confidence he's going to bounce back and throw a good game (Friday) for us."
The early hole led to a 6-2 loss for the Twins. It was the first loss of the season for Minnesota, which won two of three in last week's series against the White Sox, limiting Chicago to eight runs in the three games.
Minnesota heads home after beating the Detroit Tigers 11-5 on Thursday and splitting its six-game trip. Max Kepler and Robbie Grossman homered Thursday, and Miguel Sano hit his third of the season. The Twins, as in their season-opening series sweep against the Kansas City Royals last week, were patient in taking eight bases on balls.
"You look across the board, we've really had some great at-bats by everyone, even the young guys," Grossman said. "That's important moving forward."
Covey will need his command against Minnesota. A Rule 5 pick of Chicago in the offseason after four seasons in the Oakland Athletics' minor league system, Covey had a 4.20 ERA in the minor leagues and averaged 6.4 strikeouts and 2.9 walks per nine innings.
The 6-foot-2 right-hander will be making the jump from Double-A, where he went 2-1 with a 1.84 ERA in six starts last season. He had 26 strikeouts in 29 1/3 innings but also walked 17 batters. His season ended in May because of an oblique injury.
Covey made the White Sox's roster, but he stayed in Arizona when camp broke, throwing twice during extended spring training.
"I've been able to really focus on (the split-change) my last couple (simulated) games," Covey told Comcast SportsNet Chicago. "It's a lot better than it was in spring training. … I feel like my stuff is refined now in where I want it. I feel like I'm ready to go."
Mejia won a rotation spot with the Twins after being picked up at the trade deadline last year from the San Francisco Giants. Mejia was given the roster spot after Trevor May was lost for the season to an elbow injury, Jose Berrios was sent to the minors and Tyler Duffey was moved to the bullpen.
"We all know he had a history of being a strike-thrower, and he just competed well from Day 1," Molitor said. "We had a lot of guys that we were trying to stretch out and take a good look at. With each and every outing he had, he just developed a lot more confidence that he knew what he was doing. He's got a pretty good mound presence."
The White Sox (4-4) won back-to-back games to end their series in Cleveland. Chicago got homers from Tim Anderson and Matt Davidson, and Avisail Garcia had three hits and three RBIs on Thursday in a 10-4 win over the Indians.
"That's an extremely talented club over there, but we had a lot of good at-bats, got some good pitching, had some things go our way, and we came away with a series win," White Sox manager Rick Renteria said.
Chicago third baseman Todd Frazier missed his second consecutive game with the flu. Outfielder Melky Cabrera is expected to be placed on paternity leave and miss the series in Minnesota, with Willy Garcia being called up from Triple-A Charlotte.
###
Copyright © 2017
TTWN Media Networks Inc.