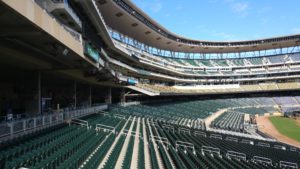 When a season of high expectations started for Minnesota, a mid-September series at Target Field between the Twins and the visiting Detroit Tigers was expected to be a fight for postseason position.
Playoffs are still in the picture for Detroit. But the optimism created by the Twins' 83-79 record in 2015 ended quickly and has led to another long summer as Minnesota begins its final homestand of the season.
The Twins send left-hander Hector Santiago (12-8, 4.65 ERA) to the mound to start a three-game series against Detroit on Tuesday. The Tigers counter with left-hander Matt Boyd (5-4, 4.43).
While Minnesota (55-95) tries to avoid 100 losses for the first time since losing 102 games in 1982, Detroit is challenging for a playoff spot.
The Tigers (79-70) snapped a three-game losing streak with a 9-5 win at Cleveland on Sunday. They sit 2 1/2 games behind Toronto and Baltimore for the final wild-card spot in the American League.
"We had to win," Tigers manager Brad Ausmus said after Sunday's win. "We feel like we've got to win every single day the rest of the way. If we do, we'll be in great shape. If we don't, we're going to need some help."
Playing the Twins has been quite a help.
The teams split the four-game series in Detroit last week — Minnesota's only two wins on a seven-game road trip — but the Tigers have owned the season series with 12 wins in 16 games.
Boyd lost one of those games to the Twins last week, giving up seven runs and eight hits in just 3 2/3 innings. Boyd told MLB.com he's made some adjustments before Tuesday's start.
"Not a whole lot of tweaking, more just refining," Boyd told MLB.com. "Sometimes there's just one or two little things that can take you out of your delivery. That being said, you have to be better in the moment to figure out a way to get it done with that."
The Twins' offense, in particular second baseman Brian Dozier, is still giving fans reason to watch as another frustrating season concludes. Minnesota is one loss shy of the 96 it finished with in 2012 and 2013. In 2011, the team lost 99 games.
Dozier is doing things not seen in Minnesota since the days of Hall of Fame slugger Harmon Killebrew, though. Dozier has a 22-game hitting streak and would set the AL record for home runs by a second baseman with his next homer while playing the position.
Dozier has 41 home runs — the only Twins player besides Killebrew to reach the mark — and 39 of the homers have come while playing second base.
"(Dozier has) put together a phenomenal run here in the last 3 1/2 months," Minnesota manager Paul Molitor told MLB.com. "And he's putting up historical numbers at his position. The hitting streak speaks to a little bit more of the consistency of his at-bats. He's doing his job. He's a catalyst for our offense. At the end of the year, you're going to look at the body of his work and it's going to be pretty impressive."
Dozier was 7-for-15 with two homers and five RBIs during the series in Detroit last week and had two hits in two at-bats against Boyd.
But the losses have worn on Dozier, even as his personal achievements have piled up.
"It doesn't really sit very well, I can tell you that," Dozier told MLB.com of his hitting streak. "It is what it is. I couldn't care less, to be honest with you. We didn't get enough of them today. So that's pretty much it."
Detroit, which is 6-0 at Target Field this season, isn't sure if it will have its second baseman. Ian Kinsler was hit in the head by a pitch from Cleveland's Trevor Bauer on Sunday and was showing symptoms of a concussion following the game.
Santiago has settled in after some initial struggles when he was acquired by Minnesota from the Los Angeles Angels at the trade deadline. Santiago has allowed five runs total over his last four starts. He beat Detroit with 5 2/3 innings with one run allowed last week.
###
Copyright © 2016
TTWN Media Networks Inc.