Rays 8, Twins 6 (15 innings)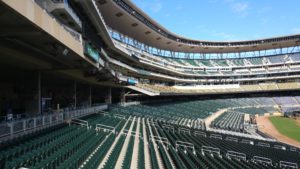 MINNEAPOLIS — Evan Longoria and Logan Morrison hit back-to-back homers to open the 15th inning, and Tampa Bay outlasted Minnesota in the longest game in Target Field history.
Longoria's seventh homer of the season came off the second pitch of the inning from Hector Santiago (4-4), who is scheduled to be the Wednesday starter for Minnesota. Morrison followed with a long homer to deep right field on the next pitch as Tampa Bay won for the second time in five extra-inning games this season.
Brandon Kintzler gave up two-runs in the top-of-the-ninth to blow the save.   The Twins had scored two runs in the bottom of the eighth inning to grab a 5-3 lead heading into the ninth.  Joe Mauer homered as the Twins dropped the rubber-match to fall to 26-and-20 overall.
The game equaled the Target Field record of 15 innings and set a record for time of game for the eight-season-old stadium at 6 hours, 26 minutes.