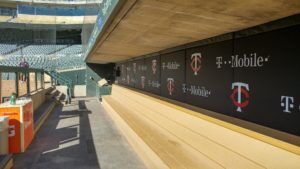 MINNEAPOLIS — The Cleveland Indians entered the Monday game against the Minnesota Twins with losses in seven of their past nine games, though manager Terry Francona said he didn't feel there was any sort of World Series hangover affecting his team.
Cleveland simply had not put together enough pitching and hitting to win games.
"We haven't swung the bats collectively really well," Francona said. "At times we haven't pitched well. I don't attribute that to anything other than not swinging the bats real well yet. We've been inconsistent in our play."
The Indians got back to their winning formula of steady starting pitching, lights-out bullpen work and some timely hitting in a 3-1 win against the Twins on Monday. Cleveland will try to further Francona's point when it sends Josh Tomlin to the mound on Tuesday for the second game of the four-game series.
Right-hander Phil Hughes will start for the Twins.
Tomlin is a good example of Francona's mention of pitching struggles. The right-hander is 0-2 with an 18.47 ERA this season. Tomlin gave up seven runs in 1 2/3 innings to the Chicago White Sox in his last start.
Despite Francona's assessment, the Indians' hitting — led by Francisco Lindor and Jose Ramirez — generally has been there. The pitching has been the biggest problem. Cleveland is tied for fifth in the American League in runs per game (4.46 per game), but the Indians also have the majors' worst ERA at 5.01.
Danny Salazar pitched six innings and allowed one run to the Twins on Monday, and the bullpen added three scoreless innings, though closer Cody Allen loaded the bases in the ninth inning before getting Joe Mauer to fly out.
"They've had a couple injuries that they've dealt with," Minnesota manager Paul Molitor said of Cleveland. "More than capable rotation; you know about their bullpen, a lot of exciting offensive players. We had a nice go at these guys last year, had a chance to win the overall season series near the end but couldn't pull it out."
The Indians won 10 of the 19 meetings between the two teams last season even as the Twins were on their way to a 103-loss season and Cleveland was winning the AL pennant.
Minnesota has shown its most improvement on the pitching side. The Twins own the major's lowest ERA, 2.50.
"It's early, but we have had a high number of quality starts, and they seem to be passing the baton each and every day to the next guy," Molitor said. "Hopefully we can continue to respond in that fashion. It's unfortunate that we've squandered some of those outstanding starts and not been able to put them in the win column."
In his return from season-ending surgery last year for thoracic outlet syndrome, Hughes (2-0, 3.86 ERA) has won both of his outings with mixed results. He threw six innings of one-run ball to beat the White Sox on April 7, then came out on the right end despite yielding four runs in 5 2/3 innings against Detroit on Thursday.
Another player coming back from a lost season, Michael Brantley, helped push Cleveland to the win on Monday with his second home run of the season.
"He looks like Brantley (again), which is a big compliment to him and his work ethic," Francona said.
Brantley said: "I'm getting there, let's put it that way. It's going to take some repetition. It's going to take some time. I understand that. I understand the process that it takes now from being out for a little while — actually a long while. It's going to take a little bit of time, but we're taking the right steps in the positive direction."
###
Copyright © 2017
TTWN Media Networks Inc.