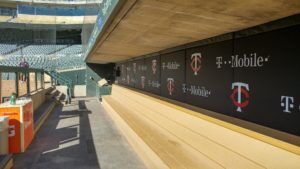 MINNEAPOLIS — The Minnesota Twins are on top of the American League Central but haven't controlled their own home field.
The Kansas City Royals are just trying to get some momentum at the bottom of the division and haven't played well on the road.
Both teams managed to avoid being swept on Thursday and will look to gain traction when they start a series at Target Field on Friday.
The Twins salvaged the second game of a Thursday doubleheader against the Colorado Rockies as Jose Berrios had the best outing of his short major league career with a career-high 11 strikeouts in a 2-0 win. Minnesota snapped a three-game losing streak with the victory.
"You can't say you're desperate for a win, but you come off a good trip, you let the last one on the trip slip away and you get off to a rough start the first couple games," Twins manager Paul Molitor said. "It's a long day at the park. We all know how doubleheaders work. To be able to salvage that is a credit to (Berrios)."
Kansas City had lost the first two games at home to the New York Yankees before Danny Duffy won for the first time since April 14 as the Royals beat New York 5-1 on Thursday.
"We've been in a little bit of a rut," said Duffy, who struck out a season-high 10 over seven scoreless innings.
The Twins are 5-0 against the Royals this season.
Minnesota leads the AL Central at 20-17 but is 9-12 at home. Molitor emphasized the importance of avoiding any long losing streaks. The Twins have lost at least three games in a row just twice all season.
"It's just like hitting," Molitor said. "You try to stay away from those 0-for-30s. You take your 2-for-15s and things like that once in a while."
Minnesota will have left-hander Hector Santiago (4-2, 3.80 ERA) face Kansas City on Friday. Santiago had his worst outing of the season his last time out, when he gave up six runs in 2 2/3 innings in a loss to the Cleveland Indians on Sunday.
Santiago is 3-3 with a 3.82 ERA in 16 career appearances against the Royals. He earned a win in the second game of the season when he allowed one run in five innings against Kansas City.
Kansas City will start right-hander Nate Karns on Friday. Karns (2-2, 4.46) has won his last two decisions and has given up two runs or fewer in each of his past three starts. He has struck out at least 10 in back-to-back outings.
Karns became the first pitcher in franchise history to strike out 12 batters in just five innings in his last outing, Saturday against the Baltimore Orioles.
"I'm finding success when I'm able to work ahead I can really expand the zone," Karns said after the game. "Today it's a very powerful lineup and I knew I had to keep it down. I had success with it. I guess they weren't picking it up and I kept going with it."
Karns allowed two homers in the game, both to catcher Francisco Pena.
"Great night. What a curveball," Yost told MLB.com. "Made two pitches up in the zone and Franky Pena hit them out of the park. But that was it."
Karns hasn't been successful against Minnesota. He owns a 17.55 ERA in three games, two starts, against the Twins, without recording a win or loss. He has given up 13 earned runs in 6 2/3 innings. However, Karns is on a strong run, and the Royals hope they can build off their Thursday win, as well.
"We're playing like we're playing for our lives," Duffy said. "We want to stick together. It's a huge opportunity to contend for another ring."
###
Copyright © 2017
TTWN Media Networks Inc.