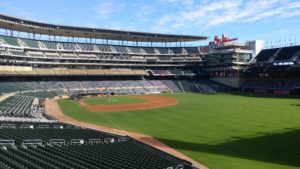 MINNEAPOLIS — Chris Archer spent the first half of last season toiling for the Tampa Bay Rays to a 4-12 record and 4.66 ERA. After the tough start, the right-hander's strong second half was somewhat overshadowed when he had a 3.25 ERA and 103 strikeouts in his final 91 1/3 innings.
Archer kept it going this season and has again been the ace at the top of the Tampa Bay rotation.
Archer (3-3, 3.76 ERA) will try to get the Rays' nine-game road trip off on good footing when he starts Friday against the Minnesota Twins.
"I focus on the process, and the process was pretty good tonight," Archer told the Tampa Bay Times after his last outing, a loss to the New York Yankees where he gave up three runs in 6 1/3 innings. "I'll take the process a hundred out of a hundred times."
Archer's performances can't be defined simply by the wins and losses, just like last year when he lost 19 games. He allowed three runs in the second inning, but kept Tampa Bay in the game. He also posted 12 strikeouts, the third time in four games he's had at least 11 strikeouts.
The Rays (25-25) have followed Archer, at least in win percentage. Tampa Bay defeated the Los Angeles Angels 4-0 on Thursday to finish a 3-3 homestand.
Minnesota (25-18) is winning games home and away, though the road has served the American League Central leaders better to this point of the season. The Twins return home after a quick trip to Baltimore where they swept the Orioles.
"It was a really exciting series," Minnesota manager Paul Molitor told MLB.com. "Every game kind of took on a different look, from a really nice comeback to start us off and (Ervin Santana's) masterpiece. Today, we kind of started fast and had to hang on. It was a little frustrating that we couldn't take advantage and maybe increase the cushion somewhat.
"… It feels good, there's no question about that. You have to give these guys credit for coming out on the road here and finding a way to beat the Orioles three days in a row."
The Twins will send Hector Santiago (4-2, 3.96) to the mound. Santiago finished with a no-decision in his last outing after giving up three runs in five innings against the Kansas City Royals.
Santiago is 1-0 in his career against the Rays, with a 4.86 ERA in four appearances, including two starts. In his last start against Tampa Bay last season, Santiago threw seven scoreless innings and struck out nine batters.
Archer is 5-1 all-time against Minnesota with a 1.73 ERA in six starts. It's his second-lowest ERA against any opponent he's faced at least five times. Archer is also 3-0 with a 0.98 ERA at Minnesota's Target Field, the second-lowest ERA in the park's history for a pitcher with at least three starts.
If Archer can continue the trend, the Rays might be able to build on the momentum from Thursday's win when Colby Rasmus drove in four runs. Tampa Bay is 9-12 this season on the road.
"The vibe in the clubhouse is good, everybody is working to try and get better every day," Rasmus told MLB.com. "We're trying to win ballgames, coming in and trying to solve those problems. But it's the big leagues and it's tough.
"The guys on the other side are getting paid a lot of money to try and get us out. You've just got to continue to try and learn and figure out what they're doing to us in those situations and try to beat them."
###
Copyright © 2017
TTWN Media Networks Inc.