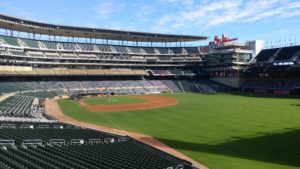 Coco Crisp snapped a seventh-inning tie with a two-run single, and the Oakland Athletics ended a four-game losing streak with a 3-1 victory over the Minnesota Twins on Monday.
Kendall Graveman pitched effectively into the seventh to stop a recent slide by the A's rotation. He allowed three hits and one run in 6 2/3 innings.
Stephen Vogt's RBI single evened the score at 1 in the seventh against Twins starter Ricky Nolasco (3-7), and Crisp gave Oakland the lead four batters later.
The Twins, after totaling 24 hits over their previous two games, managed only four. That included a two-out triple by Eddie Rosario in the ninth, but Ryan Madson recovered from that hit and a walk to earn his 16th save in 19 attempts.
Graveman (4-6) left with two runners on, but rookie right-hander Ryan Dull had no trouble picking him up.
Dull retired Eduardo Nunez on a fielder's choice to end the inning and stretch his record streak of inherited runners stranded to 36 since the start of the season. That's the longest in major league history since the expansion era began in 1961, according to the A's. Opponents have one hit in 47 at-bats with runners in scoring position against Dull this year.
Danny Valencia's leadoff double in the seventh snapped his 0-for-17 streak, and he aggressively reached third on a grounder to shortstop when Nunez's throw was a hair late. Valencia was called out on the field, but the challenge by A's manager Bob Melvin brought a replay-review reversal. Valencia's foot hit the base barely before Miguel Sano's tag on the back.
Suddenly, the roll that Nolasco was on screeched to a stop. Vogt's single drove in Valencia, and Nolasco was removed for Taylor Rogers. With two outs, Crisp smacked a single up the middle on the fourth two-strike pitch he faced.
Second baseman Brian Dozier made a diving attempt but just missed.
Nolasco has lasted at least five innings in 16 of his 17 starts this season.