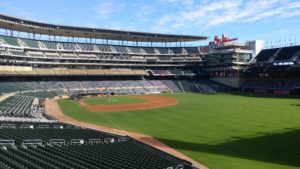 The Minnesota Twins are trying to move on from last year's 103 losses.
Power-hitting third baseman Miguel Sano looks at a lost 2016 a big differently.
"Last year, I can say it was not a bad year for us," Sano said. "It was like an experience year. The team lost a lot, but I can say that year, we learn from that. Everybody is playing happy. It's a game. It's got a name: game. Everybody try to play normal. Nobody like in a hurry or something like that. No pressure. Only play and win."
Minnesota is starting 2017 differently. After losing their first nine games last season, the Twins won their first two for the first time since 2007. Right-hander Kyle Gibson will start Thursday's afternoon affair against the Kansas City Royals as host Minnesota tries for a season-opening sweep.
Kansas City will start right-hander Jason Hammel.
Pitching has been the key to the first two games as the Royals have issued 16 walks to Twins' hitters. Minnesota pitching has held Kansas City to two runs on seven hits.
"The teams that play so good, everybody plays hard," Sano said. "They do the little things, try to hit a good pitch, try to get a walk. Like (Jason) Castro, he had four walks today, which was good for the team. Just try to take every opportunity where guys are on base and hit an RBI to make a score."
Sano's three-run triple and Eduardo Escobar's three-run homer in the seventh helped the Twins cruise to a 9-1 win on Wednesday, but the damage was done early thanks to walks again.
The Royals gave up three bases-loaded walks on Opening Day. On Wednesday, three walks led to three runs in the second inning and another three free passes were issued in the seventh.
"You're just putting yourself in a position for them to put big numbers on the board when that happens," Kansas City manager Ned Yost said.
Minnesota is just trying to show improvement and taking advantage of its opportunities.
"More walks than hits, but it works," Twins manager Paul Molitor said. "I think these guys understand that patience is a part of the game. When you get on base, no matter in what fashion, it contributes to opportunities to score runs, but you have to cash in and we did today pretty well."
The Royals had four hits on Wednesday and none after the sixth inning.
"We just haven't had many opportunities to capitalize on," Yost said. "Little slow getting going with the bats right now. But, we've seen that changes quick."
Much of the issue for Kansas City's pitching staff has been the bullpen, which allowed 12 runs in the two games.
"Just starting off on a bad foot, really," said right-hander Nate Karns, who allowed four runs on two hits and two walks Wednesday and is slated to start on Sunday. "I don't think there's anything that can point to why we're not doing really well right out of the gate. We'll tighten it up and get it going tomorrow."
Minnesota's bullpen hasn't provided any chance for the Royals to get back into games. The Twins received six scoreless innings from the bullpen through two games, with one walk and one hit allowed and six strikeouts.
"We have different people that I have a lot of confidence in to get outs of significance late in games that you're trying to win," Molitor said. "But until it gets a little more established, we're kind of going with matchups late in the game as far as when (Matt) Belisle or (Ryan) Pressly or (Taylor) Rogers might pitch."
###
Copyright © 2017
TTWN Media Networks Inc.