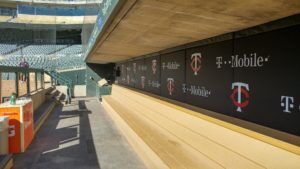 Dustin Pedroia looks to build on his league-leading 15-game hitting streak and the Boston Red Sox will attempt to bounce back from a poor offensive showing when they open a three-game series against the Twins on Friday in Minnesota.
Pedroia went 1-for-3 with a walk and a strikeout to keep his streak alive Wednesday night as the Boston bats were held in check by Madison Bumgarner in a 2-1 loss to the San Francisco Giants.
Every day since May 3, a Red Sox hitter has held at least a share of the majors' longest hitting streak. Jackie Bradley Jr. stretched his to 29 games before passing the torch to Xander Bogaerts, whose streak reached 26 games.
David Ortiz, the retiring 40-year-old slugger who will be honored in a pregame ceremony Friday, held a 13-game streak until he grounded out as a pinch hitter Tuesday in the Red Sox's 5-3, 10-inning win over the Giants.
Boston (34-25) scored five or more runs in nine of its last 12 games. The Red Sox have scored a league-leading 342 runs this season, an average of 5.8 per game.
Despite the offensive production, the Red Sox enter the series in Minnesota with a 2-5 mark over their last seven games, and they trail the AL East-leading Baltimore Orioles by two games.
In the Red Sox's favor, they have their most consistent starter — right-handed knuckleballer Steven Wright — on the mound to open the series. Wright (6-4, 2.29 ERA) is 0-0 with a 4.50 ERA in one career start against the Twins.
In his most recent start, Saturday against the Toronto Blue Jays, Wright gave up three runs, all unearned, on three hits and five walks while striking out three in a five-inning no-decision.
"He pitches deep into games and he's a road warrior," Red Sox manager John Farrell told RedSox.com. "He's been a main contributor and a dependable starter."
Minnesota (18-41) has hit just .231 (6-for-26) against Wright, who gave up four runs (three earned) on six hits while striking out two in a six inning no-decision last June 4.
The Twins won 8-4, thanks partly to Kurt Suzuki's 3-for-3 performance with two walks and an RBI. Brian Dozier also collected a pair of hits off Wright. Robbie Grossman has a hit in two career at-bats and also worked a walk against Wright.
Minnesota is licking its wounds after a 10-3 loss to the Marlins on Thursday night, but it still enters the weekend series on a high note, having taken two of three games against Miami.
The Twins have dropped seven of their past 10 games, though.
Minnesota's Friday starter, right-hander Tyler Duffey (2-4, 4.79 ERA), has struggled over his past four outings, posting a 7.94 ERA. The 25-year-old has never faced Boston.
Home cooking hasn't been a good thing for Duffey, who is 1-2 with a 5.92 ERA through four starts at Target Field this season.
That trend continued in Duffey's last start. He allowed four runs on seven hits — including three home runs — and two walks, but he did strike out eight in a 5 2/3-inning no-decision Sunday against the Tampa Bay Rays.
Adding to the Twins' pitching woes is the uncertain status of recently converted reliever Phil Hughes, who left Thursday's contest with a bruised left knee after being hit with a line drive in the ninth inning.
X-rays were negative, and Hughes will undergo an MRI exam on Friday.
"We're optimistic as far as no breakage," Twins manager Paul Molitor said.
Minnesota went 5-2 against Boston last year, including a three-game sweep. The teams have not met this year. The Twins will play four games at Fenway Park in late July.