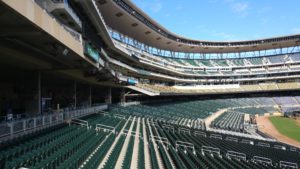 MINNEAPOLIS — A pair of teams with struggling offenses will face off when the Minnesota Twins host the Cleveland Indians on Monday to begin a four-game series at Target Field.
The Twins are coming off a 3-1, 10-inning loss to the Chicago White Sox, who took two of three games in the weekend series at Target Field.
Avisail Garcia, who leads the majors with a .465 batting average, hit a two-run home run in the top of the 10th inning off Minnesota reliever Ryan Pressly.
The Indians also dropped two of three at home over the weekend, including 4-1 loss to Detroit on Sunday. The Indians could only manage one run in six innings against Tigers left-handed starter Matthew Boyd.
Cleveland has struggled against left-handed starters this season, which is not good considering the Indians have faced six of them so far this season.
Boyd and fellow Detroit lefty Daniel Norris limited Cleveland to one run in 12 innings in the series.
"We're just not getting it done," Indians outfielder Brandon Guyer told MLB.com. "It's tough, especially when Carlos (Carrasco) pitched such a good game (Sunday). We're in the game and we had chances. Not coming through, it's not fun."
Carrasco told the (Elyria, Ohio) Chronicle-Telegram, "We're going to have some ups and downs this early in the season. Now we go on the road and go from there."
The Twins offer the Indians a bit of a respite in that department as Minnesota is scheduled to start four righties in the series. Kyle Gibson will get the start in Monday's series opener a day after Minnesota's lone left-handed starter, Hector Santiago, pitched against the White Sox.
Gibson, who is 2-3 with a 6.40 ERA in nine career starts against the Indians, made some changes to his delivery in the offseason in response to back problems in 2016 and looked good in spring training. However, Gibson is just 0-1 with an 8.00 ERA through his first two regular-season starts.
He said the key has been execution, or lack thereof, in big situations.
"I've given up six of the runs on three swings, and I should be a pitcher that stays away from the long ball," Gibson said. "I never should give up three home runs in the first two starts; I need to keep the ball in the ballpark, and if I'm able to do that, obviously the beginning of the season is drastically different."
The Indians will counter with right hander Danny Salazar, who is 3-3 in 10 appearances (all starts) with 4.80 ERA against Minnesota.
Salazar, 0-1 with a 4.63 ERA in two starts this season, will face a Minnesota lineup that has had troubles of its own. Byron Buxton (four hits this season), Eddie Rosario (six), Joe Mauer (eight) are all hitting .190 or below.
The Twins rank 10th in the American League in batting average (.233) and in slugging percentage (.375).
One upside for Minnesota was the return Sunday of second baseman Brian Dozier, who didn't play Saturday due to a sore right knee. An MRI exam found no structural damage.
###
Copyright © 2017
TTWN Media Networks Inc.