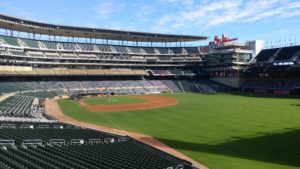 MINNEAPOLIS — The Minnesota Twins put together a successful road trip last week, going 4-1 away from Target Field.
When Minnesota returned home Tuesday to begin a series against the Oakland Athletics, that momentum didn't stop. The Twins belted six home runs, two of them by Brian Dozier, in a 9-1 rout of the Oakland A's. Ervin Santana put together six scoreless innings.
The Twins look to continue their surge Wednesday in the second contest of a three-game series. It will be up to left-hander Hector Santiago (2-1, 2.43 ERA) to keep Minnesota moving forward.
Santiago hasn't pitched since April 26, and he has been on the bereavement list since Friday. The Twins cleared a spot for his return to the roster Tuesday night when they optioned left-hander Buddy Boshers to Triple-A Rochester following the game. Boshers had no decisions and a 3.00 ERA in two appearances for Minnesota this season.
Having pitched in the American League West for nearly three years with the Los Angeles Angels, Santiago is plenty familiar with the A's. His results against Oakland, however, have been mixed. He is 3-3 with a 3.86 ERA in 13 career games vs. the A's, including 11 starts.
"He's been throwing," Twins manager Paul Molitor said of Santiago, adding that the right-hander was working out while on the bereavement list. "He's assured us he's fine."
Santiago has yet to allow more than three runs in an appearance this season. In his most recent outing, he gave up two runs in five innings during a no-decision at Texas.
Opposing Santiago on Wednesday will be Oakland right-hander Kendall Graveman (2-1, 2.25 ERA). The 26-year-old is in his third season with the A's and has been one of team's better starters through the first month.
Graveman is 2-0 with a 2.13 ERA in two career starts against the Twins, both of which came during the 2016 season.
Oakland's offense has struggled of late. The one-run output Tuesday marked the fourth time in the past five games that the A's failed to score more than two runs.
Manager Bob Melvin said he hopes the addition of Rajai Davis back into the lineup can help spark the offense a bit. Davis returned Tuesday after missing time with a hamstring injury, and he went 1-for-4.
"He's certainly a leadoff guy that has experience doing it," Melvin said. "When we signed (Davis) in the offseason, it was to lead off and play center field. When you take him out of our lineup, it takes a lot of our speed out of our lineup."
Graveman must figure out something many American League pitchers have struggled with: how to slow down Twins slugger Miguel Sano. With a home run Tuesday, Sano has gone deep in three consecutive games and in four of the past five.
Sano blasted a 466-foot homer off Oakland right-hander Sonny Gray on Tuesday.
"It was a big moment — not for me, for my whole team," Sano said. "We're hitting good. … This is great for us."
###
Copyright © 2017
TTWN Media Networks Inc.