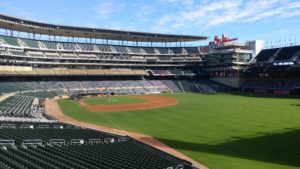 MINNEAPOLIS — The Minnesota Twins have surprised plenty of people by holding onto first place in the American League Central into mid-May. Now the Twins get to host another first-place team as they begin interleague play.
Minnesota (19-15) and Colorado begin a three-game series Tuesday at Target Field. The Rockies (24-15) are leading the way in the National League West as they play their first game against an AL opponent.
The Twins head into the series after having their four-game winning streak snapped. Minnesota dropped the series finale Sunday against Cleveland, but the Twins were able to maintain their lead over the Indians in the division standings.
Minnesota's streak ended after a rough outing for left-hander Hector Santiago, his first clunker of the season. He gave up six runs, including three home runs, and didn't last through the third inning.
"It was a tough day for me, location-wise, but it's going to happen," Santiago said after the game. "I'll take seven good ones in a row and one bad one. Forget about it and go on to the next one."
Colorado heads east after splitting a four-game series at home against the Los Angeles Dodgers. The series ended on a winning note for the Rockies, whose longest losing streak of the year is just three games.
It will be Colorado's first visit to Target Field since 2010, the ballpark's inaugural season.
The Rockies have been much better away from Coors Field this year (11-5) than they have been at their home stadium (13-10). That impressive road mark will be tested against a Twins team with a losing record at home this year (8-10).
"It's been a long homestand," Rockies third baseman Nolan Arenado told the Denver Post after Sunday's win, which capped a string of 10 straight games at Coors Field.
Rockies left-hander Kyle Freeland (3-2, 2.92 ERA) will make his eighth career big league start. Freeland, who turned 24 on Sunday, was tagged for five runs (three earned) his last time out. He took the loss in that start as the Rockies fell 8-1 to the Chicago Cubs in the second game of a doubleheader.
It will be Freeland's first career start against an AL team. All but one of his first eight outings came against other teams in the NL West.
The Twins will counter with veteran right-hander Phil Hughes (4-1, 4.74), who was roughed up a bit in his most recent start. He surrendered five runs (four earned) in 4 2/3 innings against the Chicago White Sox. Minnesota did manage to win that game 7-6, with Hughes getting a no-decision.
Hughes has faced the Rockies just once in his 11-year career. He allowed five runs and 10 hits in five innings but still got the win as the Twins put up 13 runs in a 13-5 victory in Denver.
Now the Twins will try to improve their home record against another first-place team.
"I know we have been doing pretty well on the road, but everybody likes playing at home," Twins second baseman Brian Dozier told MLB.com. "A lot better than on the road."
###
Copyright © 2017
TTWN Media Networks Inc.