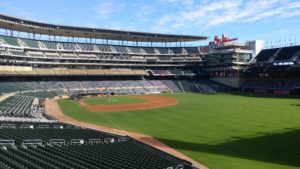 With every win critical in the season's final weeks, the Detroit Tigers are turning to Buck Farmer on Wednesday for his first major-league start of the season.
Detroit's final rotation spot has been a mess, and Mike Pelfrey allowed four runs in 1 2/3 innings in his last start against the Minnesota Twins. So, Tigers manager Brad Ausmus elected to go with Farmer on Wednesday against Minnesota, with Detroit clinging to playoff hopes as the last team out in the American League.
"Every game counts," said starter Matt Boyd, who beat the Twins on Tuesday. "This is what you live for, you know? I wouldn't want it any other way. Back against the wall, we're fighting our way out and we're going to keep fighting. It's the way we want it."
Farmer has a 4.07 ERA in 13 relief appearances this season, but he hasn't started a game in the majors since Aug. 29, 2015.
In 20 minor league starts this season, Farmer was 5-6 with a 3.96 ERA for Triple-A Toledo. The right-hander's longest major league outing of the season has been 4 1/3 innings — he held the Twins scoreless last week.
Ausmus had a simple reason for turning to Farmer, with the Tigers (80-70) entering Wednesday 1 1/2 games behind Baltimore for the second wild-card spot in the AL.
"He pitched better," Ausmus told MLB.com, "plain and simple."
The Twins will start rookie Jose Berrios (2-7, 8.88 ERA) as they try to snap a four-game losing streak and avoid 100 losses. Minnesota's 8-1 loss on Tuesday was their 96th defeat of the season, matching the team's mark in 2012 and 2013. The Twins lost 99 games in 2011, and the franchise record is 102 losses in 1982.
Pitching has been the biggest culprit in Minnesota's downfall, but the offense has suddenly gone cold. The Twins have scored five runs in their four-game losing streak.
"We didn't score much in New York and that trend kind of continued tonight," manager Paul Molitor said after Tuesday's loss. "We had a pretty good day against Boyd last week, but he made amends going eight strong innings."
Minnesota has scored the 10th-most runs in the majors but has allowed the second-most.
In his first major-league season, Berrios hasn't been able to translate his minor-league success. One of the top pitching prospects in baseball this season, Berrios has allowed 38 earned runs in his last 34 1/3 innings.
Berrios went four innings against the New York Mets in his last outing, giving up two runs on four hits and three walks.
Second baseman Brian Dozier continues to do his part on offense. He extended his hitting streak to 23 games on Tuesday and is one homer shy of setting the AL record for second basemen. He has hit 39 of his 41 homers while playing second base.
"I don't know how much it's on his mind," Molitor said of the hitting streak. "It's a nice thing to put together. I'm sure he still has some of the numbers power-wise that are still lingering out there, potentially, for him to try find his way into some elite company. In fact, maybe being the all-time leader at second base is still within his reach. But the hitting streak has been just kind of a bonus to show that he's out there grinding it out despite the fact that we're looking at a season that's been closing in on some pretty bad numbers in terms of total losses."
Both teams are dealing with injuries to key hitters.
Detroit second baseman Ian Kinsler missed Tuesday's game as he deals with a concussion and Ausmus said Kinsler is "doubtful" for Wednesday. Designated hitter Victor Martinez has swelling in his right knee after being hit by a pitch and Ausmus said, "We'll just have to see," about Martinez's availability.
Twins slugger Miguel Sano took batting practice and fielded grounders on Tuesday as he deals with lower back tightness. Sano has been out since Sept. 12, although there is optimism he could return soon.
###
Copyright © 2016
TTWN Media Networks Inc.