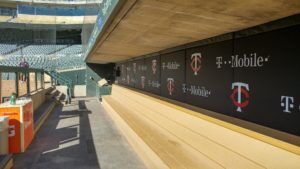 The Detroit Tigers will try and continue their dominance over the Minnesota Twins when the clubs play the second of a three-game series at Target Field on Wednesday night.
Detroit's bats came alive in the middle innings in the series lid-lifter on Tuesday, as the Tigers posted three-run innings in each the sixth and seventh frames in an 8-3 victory. The win improved Detroit to 8-2 against their Central Division mates in 2016.
The Tigers lineup, now featuring a seemingly reinvigorated Justin Upton, appears as deep as ever. Detroit blasted 14 hits on Tuesday with five players posting multi-hit efforts, including Upton.
Since returning from his brief stint out of the lineup, Upton has posted three consecutive two-hit games and is providing the pop the Tigers thought they were getting when they signed the three-time All-Star to a six-year, $132 million contract last winter.
"It makes you feel good but in the end you have to go execute," said Tigers slugger Victor Martinez. "You don't win games with lineups on paper. It doesn't work that way. You still have to go out and play the game."
Martinez homered and had three hits on Tuesday and is hitting .333 over his last 14 games overall. Miguel Cabrera also had three hits and has been a Twins nemesis over his entire career, as shown by his .343 career average at this ballpark.
Twins second baseman Brian Dozier has been a nemesis to nearly every pitcher he's run into over the last two months. Dozier cranked his 29th home run on Tuesday, establishing a new career high.
With the Twins an afterthought in the playoff chase down the stretch, the focus of fans could turn to Dozier and how many home runs he can finish with this season. His 29 are the most by a Twin since Josh Willingham belted 35 in 2012.
"It'll be fun to see if he can get to 30," said Twins manager Paul Molitor. "That's a pretty big milestone for a little second baseman."
Dozier will get a crack at left-hander Matt Boyd on Wednesday. The 25-year old southpaw has a 4-2 mark with a 3.93 ERA in 14 games, including 12 starts this season.
Boyd pitched six shutout innings against the Twins on July 18, striking out seven and walking one while scattering just three hits in his first victory. Boyd has won each of his last four decisions overall.
Minnesota will counter with Tyler Duffey. The right-hander has been inconsistent, posting an 8-9 record and a 5.93 ERA in 21 starts.
In his only start against the Tigers this season, Duffey allowed four runs, one of them earned, in 6 1/3 innings in a loss on April 30 at Target Field.