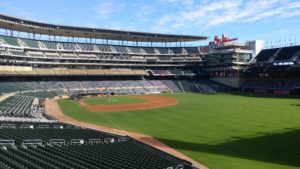 The Cleveland Indians have a firm grip on the AL Central. With Corey Kluber finding his Cy Young form, their goals for this season are much bigger than the division title.
Kluber struck out 10 in seven innings and Carlos Santana hit a three-run homer to help the Indians to a 7-1 victory over the Minnesota Twins on Sunday.
Kluber (16-9) gave up an unearned run and four hits while passing the 200-strikeout mark for the third straight season. Bob Feller, Gaylord Perry and Jack McDowell are the only other Indians to accomplish that feat.
"I feel confident with Kluber," Santana said. "I know he throws well the last seven, 10 starts. He's throwing great."
Roberto Perez added two hits, including a triple, and drove in a run for Cleveland, which increased its lead in the AL Central to seven games over Detroit.
In the first two months of the season, Kluber was 4-6 with a 4.15 ERA and not looking at all like the top-of-the-rotation fixture he has been. But ever since he gave up five runs in 3 1/3 innings of a 17-1 loss to the Blue Jays on July 3, he has been dominant. The 2014 AL Cy Young Award winner is 8-1 with a 2.04 ERA over that span to help the Indians distance themselves from the Tigers.
The Indians took two of three in the series, and Kluber's quality start was much-needed after the team needed 10 pitchers to get through a 12-inning loss on Saturday night. The right-hander yielded an RBI single to Byron Buxton in the fourth inning, but had little trouble against a Twins lineup that included September promotions James Beresford, Kennys Vargas and Logan Schafer.
"I don't think he made too many mistakes," Twins manager Paul Molitor said.
Kluber reached at least 10 strikeouts in a game for the third time this season. It was his 24th 10-strikeout game, tying him with Luis Tiant for fourth on Cleveland's career list.
"Even if the bullpen was rested I'd still be trying to go out there for as long as I can," Kluber said. "That's just the way that I approach it."
Jose Berrios (2-6) lasted just 2 2/3 innings for the Twins, who committed four errors and managed just five hits. Berrios gave up five runs – three earned – and three hits. He walked four and had an errant pickoff throw in another shaky outing for the excitable 22-year-old.
With Berrios flailing early, Santana hit a 94-mph fastball an estimated 431 feet onto the veranda behind the right field seats in the second inning. It was his 31st homer of the season and third in the last six games.
"I know the team, they need me," Santana said, "and that's why I'm here."