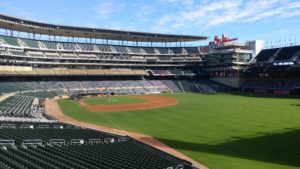 Playing against the woeful Twins boosted the Detroit Tigers' playoff chances this season.
Justin Verlander tied a season-high with 11 strikeouts and Detroit moved into the second AL wild-card spot by beating Minnesota 4-2 Thursday to sweep a day-night doubleheader.
Erick Aybar drove in two runs for the Tigers, who moved a half-game ahead of Baltimore for the second wild card and trail Toronto by one game. Detroit went 9-0 at Minnesota this year.
"It will mean a lot more to me after 10 games," Tigers manager Brad Ausmus said of the wild-card lead. "There's still a little bit of the stretch run to go. But we're clearly in the mix."
Victor Martinez had a pinch-hit, three-run homer during a six-run ninth inning as Detroit won the opener 9-2. Justin Upton added his 26th home run.
Verlander (15-8) allowed four hits in six innings, including home runs by Juan Centeno and Byron Buxton. He has won 12 of his last 13 starts against the Twins.
Francisco Rodriguez got three outs for his 44th save in 48 chances.
"I think this ballclub is kind of unique," Verlander said. "Everything is kind of matter of fact. You've got the end goal, and we're all working towards that. I don't think anybody's going to let ups and downs, ebbs and flows, get to you until the season. Hopefully, we get to celebrate and pop some bottles. But until that time comes, it's on to the next one every day."
Minnesota has lost six straight games and 98 overall, reaching 96 for the fourth time in six seasons and two short of its 2011 total.
Ervin Santana (7-11) gave up four runs – two earned – five hits and four walks in in six innings in the matchup with Verlander.
In the opener, Anibal Sanchez allowed one run and two hits in five innings in a spot start, and Alex Wilson (4-0), Shane Green and Mark Lowe finished the five-hitter.
The nightcap was another sloppy game for the Twins, who committed two errors, had two wild pitches and one passed ball. They had three errors and five wild pitches in the doubleheader, scheduled to make up Wednesday's rainout.
"It's kind of been typical for us to hang in games and then not be able to finish," Minnesota manager Paul Molitor said. "That's part of what we're hoping we're developing here is these guys are understanding the fine line when you get down to the end, whether it's making a pitch or making a play or getting a hit. It can be small when you're losing these close games, especially when they're low-scoring like that."
AMONG SECONDS
Brian Dozier's first-inning homer in the first game was his 42nd of the season and 40th while playing second base, establishing a new AL record for homers in a season by a second baseman. Dozier passed Alfonso Soriano's total in 2002. Only Rogers Hornsby (42 in 1922), Davey Johnson (42 in 1973) and Ryne Sandberg (40 in 1990) have hit more.
"It's just another number," Dozier said. "But at the same time, I know the fans are enjoying it, so you come out and you play for them. To get a chance to do that here at home is pretty cool."
Dozier had his 24-game hitting streak snapped in the second game.
TRAINER'S ROOM
Tigers: 2B Ian Kinsler (concussion) had an on-field workout and could be cleared to play Friday if he feels well after the workout.
Twins: DH/3B Miguel Sano (lower back tightness) was back in the lineup for the first time since Sept. 12. Molitor said Sano was still sore but was anxious to return. . Molitor confirmed RHP Trevor May has a stress fracture in his back. May was 2-2 with a 5.27 ERA in 44 relief appearances. He made three trips to the DL with the injury, which hadn't been detected in previous exams. . RF Max Kepler left the second game with a mild neck strain after hitting the wall awkwardly.
UP NEXT
Tigers: RHP Michael Fulmer (10-7) is to start Friday against Kansas City LHP Danny Duffy (12-2) in the opener of Detroit's final homestand. Fulmer has lost four of his last six decisions and is 0-2 against Kansas City this season despite a 2.75 ERA in three starts.
Twins: RHP Kyle Gibson (6-10) is slated to make his final home start of the season on Friday against Seattle, which will start LHP James Paxton (4-7).
###
Copyright © 2016
TTWN Media Networks Inc.