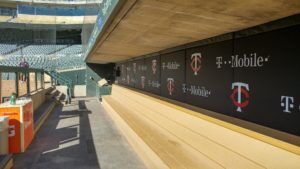 The Minnesota Twins will try to build on one of their most productive road trips of the season when they open a four-game series against the Houston Astros at Target Field on Monday night.
In that attempt, the Twins will also get back third baseman Trevor Plouffe, who has missed the last month with a fractured rib.
The Twins went 5-2 on a seven-game trip that began with three wins in a four-game series against Central Division-leading Cleveland last week at Progressive Field. Minnesota also won two of three over Tampa Bay over the weekend, capped by third baseman Miguel Sano's two homer afternoon in a 6-3 win on Sunday.
While Sano was able to get going against the Rays, Twins skipper Paul Molitor will be forced to shuffle his lineup around with the return of Plouffe, a third baseman who has also seen time at first base this season.
Plouffe's 2016 campaign has been a disappointment thus far; the slugger has just seven homers after hitting 22 last year and has a career low .283 on-base percentage. But he was swinging well in 12 games before the injury, hitting .326 with a pair of homers and seven RBIs over the final two weeks of June. He also hit .316 with a homer and two RBIs in five rehabilitation games with Triple-A Rochester before being activated following the win in Tampa on Sunday.
To make room for Plouffe, the Twins sent down struggling center fielder Byron Buxton, who entered the season as one of the top prospects in all of baseball.
After an underwhelming first taste of big-league action last season, Buxton hasn't fared much better this time around, hitting just .193 with 80 strikeouts in 197 at-bats in 2016.
"All I can tell you is that I like having people like Byron around here," Molitor said. "He's got to go down there and work on some physical things, mechanical things, and hopefully get a little confidence back."
The Astros come to town off a 5-3 loss to Texas in Houston on Sunday, a game that saw the Astros rally from three runs down late before allowing a pair of runs in the top of the 11th inning.
Texas won two of three against Houston over the weekend, helping the Rangers increase their lead to 7 1/2 games over the Astros for first place in the American League West. The Seattle Mariners, who have won three-straight games, also moved ahead of Houston for second place in the division.
"Any time I leave this podium after a loss, I hate it," Astros manager A.J. Hinch said, according to MLB.com. "I don't care what team is on the other side. I don't care what division they're in, what league they're in, how the loss happened. … I'm not naive. I know that those games (against the Rangers) are going to be magnified … but if we had lost to an unnamed team not named the Rangers, I would be just as disappointed."
Houston native Tyler Duffey will take the mound for Minnesota in game one of the series. Duffey, who attended Bellaire High School and pitched for Rice University, has given up at least five runs in each of his last three starts and could pitch his way out of the rotation with another clunker on Monday.
Duffey, a righty, allowed two runs on six hits and a walk in 6 2/3 innings in a no decision last season in Houston in his only career start against his hometown team.
Collin McHugh will go for the Astros, coming off a quality start against Toronto in which he allowed three runs in six innings of work. The right-hander allowed four runs on seven hits and two walks in 5 2/3 innings against the Twins at Minute Maid Park on May 3 but earned the win victory.