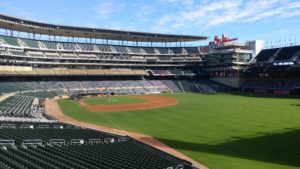 If there is any silver lining to the rainout Wednesday, it is an extra day for both the Detroit Tigers and Minnesota Twins to get healthy.
The Wednesday game at Target Field was postponed due to heavy rain in the bottom of the third inning before either team scored a run. The Twins and Tigers will play a split day-night doubleheader Thursday to close out the three-game series.
The first game of the doubleheader begins at 1:10 p.m. CDT, with the night game starting at its originally scheduled time of 7:10.
Detroit right-hander Anibal Sanchez (7-13, 5.90 ERA) will start the first game against Minnesota left-hander Pat Dean (1-6, 6.71 ERA). The Tigers' Justin Verlander (14-8, 3.22 ERA) and the Twins' Ervin Santana (7-10, 3.38 ERA), both originally scheduled to pitch Thursday, will remain the starters for the night game.
When Detroit and Minnesota take the field again Thursday, both clubs hope they will do so with a bit healthier roster.
Tigers second baseman Ian Kinsler was not in the lineup Wednesday due to concussion-like symptoms three days after he was hit in the head by a pitch.
"It doesn't matter if he's symptomatic or not," manager Brad Ausmus said. "He has to have one extra day after he's done being symptomatic. So he was symptomatic yesterday, so he couldn't play today. He has to be asymptomatic, then he has to do baseball activities, and then I think he's OK."
Detroit designated hitter Victor Martinez, who was also hit by a pitch Sunday, was held out again Wednesday due to a knee injury.
Minnesota's Miguel Sano hasn't played a game since Sept. 12 due to a back injury. Twins manager Paul Molitor was optimistic before Wednesday's game that Sano would have been available to pinch-hit if needed, and Molitor reiterated after the rainout that Sano might be in the lineup Thursday as the designated hitter.
Twins first baseman Joe Mauer was back Wednesday after missing two games with a sore quad but returned only as the designated hitter. Molitor said Mauer most likely would return to first base Thursday in at least one of the games. Kennys Vargas was the Twins' first baseman in Wednesday's postponed game.
"We don't have a ton of players considering where we're at," Molitor said. "So it'd be nice if we could spread the workload out tomorrow."
Wednesday's rainout marked the 13th weather-related incident at Target Field this year. It was the third postponement of the season at the Twins' home ballpark. Minnesota also has had 10 rain delays in 2016.
Neither team managed much in three innings Wednesday before the skies opened up. Twins rookie pitcher Jose Berrios got into jams in both the first and second innings, allowing runners to reach third base both times. However, he wriggled out of both situations and pitched a 1-2-3 third inning — only to have his start cut short minutes later by the rain.
"It happens. It's rain. It's one of God's gifts," Berrios said through a translator. "I felt good out there. I know the numbers aren't going to count tomorrow, but for me to be able to do that, I feel better out there. It's a confidence-booster for me."
These games down the stretch ultimately won't mean much for the Twins, who are a major-league-worst 55-96 with 11 games to play. The Tigers, however, are still in pursuit of a playoff berth. Detroit (80-70) sits only one game out of the second American League wild-card spot after the Baltimore Orioles lost Wednesday.
###
Copyright © 2016
TTWN Media Networks Inc.