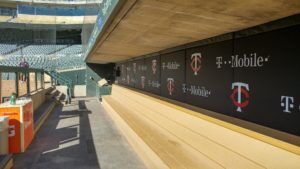 The last time the Minnesota Twins had a successful weekend against a winning team, they stumbled against the Oakland Athletics.
After taking two of three from the American League West-leading Texas Rangers, the Twins will hope to avoid more losses to the Athletics on Monday afternoon when the teams begin a three-game series at Target Field in Minneapolis.
The Twins have seven series victories, and five have been against teams with winning records.
Two of those series victories have preceded meetings with the Athletics.
On May 27-29, the Twins scored 18 times and took three straight in Seattle. The follow-up was scoring seven times during a three-game sweep in Oakland.
Heading into their second series with Oakland, the Twins were more productive. After losing the series opener Friday, Minnesota scored 22 times in getting two victories over Texas.
"We haven't had a lot of highlights here," Twins manager Paul Molitor said to reporters.
One of the recent highlights for Minnesota has been Brian Dozier's performances. Dozier drove in two runs and scored twice during Sunday's 5-4 win and has reached base safely in his 25th straight game, which is the longest active streak in the majors.
Miguel Sano was injured during Minnesota's second loss in Oakland on May 31 but has recovered from missing more than a month with a hamstring injury by driving in three runs and scoring four times against Texas.
Oakland had a 25-29 record after completing its sweep of Minnesota on June 1. Since then, the Athletics have lost 18 of their last 28 games.
The Athletics had a frustrating weekend against the Pittsburgh Pirates by going 3-for-23 with runners in scoring position and stranding 22 runners.
"We got derailed again this series," Oakland manager Bob Melvin said to reporters after watching his team score first and wind up losing four straight games. "It's frustrating, but no more for me than anyone else."
Josh Reddick was on the disabled list during Oakland's sweep over Minnesota but has gone 5-for-20 in five games since returning from a broken thumb.
The pitching matchup will feature pitchers with 3-6 records.
Ricky Nolasco has a 5.31 ERA and will make his 17th start for Minnesota and hopes it goes better than his last appearance. On Wednesday against the Chicago White Sox, he allowed seven runs and nine hits in 5 2/3 innings in a 9-6 loss.
Nolasco has done well in his limited experience against Oakland, going 2-0 with a 3.00 ERA in three starts against the A's. He last faced Oakland on May 7, 2015, in Minnesota when he allowed four runs in five innings.
Kendall Graveman has lowered his ERA to 4.84 by going 2-1 with a 3.98 ERA in his last eight starts. He has given up two home runs in that stretch after allowing 10 in his first seven starts.
Graveman's 3.83 run-support average is among the lowest in the AL, but Tuesday he took a no-decision after allowing four runs and nine hits in five innings at San Francisco, and Oakland posted a 13-11 victory in that game.
Graveman's lone appearance against Minnesota was in a 3-2 win on May 30 when he allowed two runs and six hits in six innings.
Minnesota scored 28 runs and took three of four home meetings with Oakland last season.