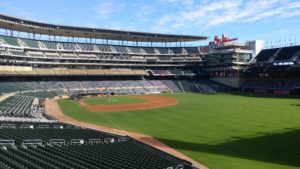 MINNEAPOLIS — The Minnesota Twins and Cleveland Indians square off in the finale of a rain-shortened series at Target Field on Thursday thanks to Mother Nature washing out the third of a scheduled four-game set.
Wednesday's postponed game was rescheduled for Saturday, June 17, as the nightcap of a day/night doubleheader. The teams already were scheduled to play that afternoon.
Cleveland right-hander Trevor Bauer (0-2, 8.44 ERA), who was scheduled to face Minnesota left-hander Adalberto Mejia (0-1, 4.05) on Wednesday, will be pushed back a day to go head-to-head with Twins' ace Ervin Santana (3-0, 0.41 ERA).
Cleveland's No. 1 starter Corey Kluber (1-1), who has a 6.38 ERA with six walks and 18 strikeouts, will make his next start on Friday night against the White Sox in Chicago.
Although Mejia is only a rookie, the rainout allows Cleveland to avoid facing its seventh left-handed starter of the season. Lefties have been particularly troublesome for the Indians, who are hitting only .219 and slugging .303 against them.
In contrast, Cleveland is batting .272 and slugging at a .468 clip when facing right-handers.
After winning six of nine games to start the season, Minnesota dropped four of five to begin its homestand. The Indians, meanwhile, have won three of their last four, including the first two games of series in Minnesota.
Despite a rough outing by starter Phil Hughes and three relievers on Tuesday, the Twins' 2.98 staff ERA is third in the major leagues and it opponents' batting average of .211 is tied for first with Cincinnati.
"It's been a stretch where our pitching has not been a problem, from the way our starters have thrown for the most part, to the fact that everybody that I've called upon in almost every situation has been able to do the job," Twins manager Paul Molitor said.
"It's nice to have the depth. It's nice to have the flexibility. A team like Cleveland that can do a lot of things with switch-hitters and their bench, it's good to have as many weapons as you can, especially if they're all throwing the ball well. Hopefully, it continues."
Bauer, despite his lofty ERA through two starts, has recorded 13 strikeouts with only two walks in 10 2/3 innings.
Minnesota first baseman Joe Mauer (10-for-28, .358, six RBIs) and outfielder Eddie Rosario (8-for-18, .444, five RBIs) have proven to be Bauer's toughest outs in the Twins' lineup.
But Mauer (.216) and Rosario (.217) are off to slow starts in 2017.
Sluggers Brian Dozier (3-for-26) and Miguel Sano (1-for-17), on the other hand, have not fared well historically against the Cleveland righty.
Santana, who is 5-11 with a 4.35 ERA all-time versus the Tribe, has allowed a total of only one run over 22 innings in his three 2017 starts.
With only five hits allowed so far, Santana is limiting opposing batters to a major-league low .071 average.
Santana was 7-11 with a 3.38 ERA last season, but went 4-4 and posted an impressive 2.65 ERA after the All-Star break.
The 12-year veteran is coming off of a one-hit shutout over the White Sox on Saturday, in which he walked only one and struck out eight.
Santana retired the final 18 batters to record his second career one-hitter.
Only Jose Ramirez (9-for-13, .692, three home runs, seven RBIs) and Edwin Encarnacion (7-for-25, .280, seven RBIs) are batting higher than the team average of .246 versus Santana among Cleveland batters with at least 13 at-bats against the Twins' No. 1 starter.
Ramirez is 14-for-24 with seven runs, three home runs and 10 RBIs in his last six games, including 4-for-9 with a home run, two RBIs and two runs in the series.
After Tuesday's win, Cleveland manager Terry Francona referred to Ramirez, who hit .312 with 76 RBIs in 2016, as a blessing.
"He's continuing to get better and he's a force," Francona said. "He may not look like it in stature, but he's a force. He's a good player."
###
Copyright © 2017
TTWN Media Networks Inc.