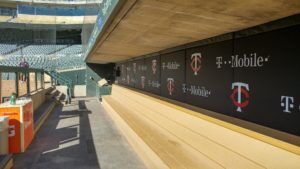 It has been a long time since the Texas Rangers endured a three-game losing streak, something they will try to avoid Friday night in the opener of a three-game series against the Twins in Minnesota.
In fact, before losing their past two games, Texas (51-29) hadn't dropped back-to-back games since their past three-game skid, a May 16-18 three-game sweep at Oakland.
The Rangers fell to the New York Yankees on Wednesday and Thursday to split a four-game set. On Thursday, Texas lost in a particularly painful fashion: on a passed ball.
Chase Headley scampered home after a 1-1 pitch with two outs in the ninth skated under catcher Robinson Chirinos' glove to the backstop, giving the Yankees a 2-1 walk-off win. Shin-Soo Choo's leadoff homer to open the game provided the Rangers with their only run.
The Rangers are no strangers to walk-off losses — they have a league-leading nine this season.
On the whole, things are looking up for Texas. The Rangers have an 8 1/2 game lead atop the American League West after going 20-7 in June, one win shy of matching a single-month franchise record, and their 51 wins are tied for the most in the majors with the Chicago Cubs.
The same can't be said for Minnesota, which also enters the series on a two-game skid — but the Twins' problems go much deeper.
Minnesota (25-53) dropped two of three against the Chicago White Sox, including a 6-5 setback Thursday. The league-worst Twins went 10-17 in June and have settled comfortably into last place in the American League Central.
"We're giving up too many runs early in the ballgame," Minnesota second baseman Brian Dozier said. "We're still making some mistakes on the bases that (go) unseen but that (would) create more runs to get over the hump."
A pair of hot pitchers will toe the rubber Friday as Rangers left-hander Martin Perez (7-4, 3.44 ERA) opposes Twins righty Ervin Santana (2-7, 4.64 ERA).
Perez has won six consecutive decisions, matching his career-best stretch from 2013. He has a 3.40 ERA in his past seven starts.
Last time out, Perez held a powerful Boston Red Sox offense to one run on six hits and two walks over six innings in a 6-2 victory.
"Just keep going and continue to do my job," Perez told MLB.com. "I don't want to stop. I just want to win and help the team."
Perez has faced the Twins only once in his career, surrendering four runs over six innings in a 5-1 loss on July 6, 2012. Joe Mauer is 1-for-2 with two RBIs against Perez, although he has hit .234 against the Rangers in his career — his second-lowest mark against an AL opponent.
Santana has allowed just three earned runs in his past two starts, including a five-inning no-decision against the Yankees last Saturday in which he allowed a run on six hits.
However, the former Los Angeles Angels pitcher hasn't had much career success against Texas, going 13-11 with a 5.67 ERA in 30 starts against the Rangers.
Adrian Beltre (.250, 15-for-60) has hammered Santana, smashing five home runs and driving in 15 runs against him. Prince Fielder (.389, 7-for-18) has hit three homers off Perez, and both he and Mitch Moreland (.320, 8-for-25) have driven in seven runs against him.