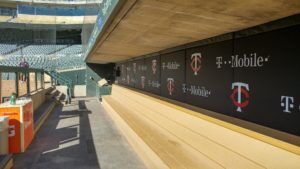 The Houston Astros were bailed out by Mother Nature on Wednesday night in what was supposed to be the third game of a four-game series against the Minnesota Twins at Target Field.
After falling behind 5-0 through two innings, a line of strong thunderstorms delayed — then eventually cancelled — the game, forcing the clubs to make it up as part of a split doubleheader on Thursday.
"We'll have a long day at the ballpark tomorrow," Astros manager A.J. Hinch said. "But given where we were, it's obviously a decent enough outcome to start the game over."
Minnesota came out flying against Astros left-hander Dallas Keuchel on Wednesday. Brian Dozier led off the game with a home run and the Twins tacked on four more in the second inning to grab an early five-run lead.
Moments after the top of the third began, the rain started and never let up. Twins right-hander Ervin Santana retired one batter before umpires cleared the field.
The game was delayed 2 1/2 hours before Major League Baseball decided to cancel it, wiping out the Twins' lead. The game will be restarted as though it never happened at 6:10 p.m. CT on Thursday.
"There's not much to say. You get off to a good start against a good pitcher and you have your best guy out there and you have to wipe it off the slate like it never happened," Twins manager Paul Molitor said. "We tried hard to play. We had some optimism it would stop after the delay, but it kept building."
The pitching matchup for the first game on Thursday remains unchanged. Houston will send right-hander Doug Fister to the mound against Twins rookie Jose Berrios.
Fister has been outstanding in two August starts, allowing one earned run while striking out 10 in 12 innings. Houston has scored just four runs total in those games, however, and Fister doesn't have a victory to show for it.
Berrios has been inconsistent in six starts at the major league level, compiling a 2-2 record with a 8.31 ERA. But perhaps his best start of the season came May 2 in Houston when he allowed two runs and three hits in 5 1/3 innings, picking up his first career victory.
Astros right-hander Chris Devenski will start the nightcap. It will be his 31st appearance with Houston this season but just his fifth start and first since mid-May. He has been effective, racking up 66 strikeouts and a 2.51 ERA in 75 1/3 innings.
Left-hander Tommy Milone will get the start in the second game for the Twins. Milone was recently demoted to the bullpen after allowing 12 runs in two late-July starts. He last pitched on Sunday, tossing an inning of scoreless relief against the Tampa Bay Rays.
After the games Thursday, Minnesota will continue a seven-game homestand on Friday when they open a three-game series against the Kansas City Royals at Target Field. Houston will travel to Toronto to open a three-game series against the Blue Jays.