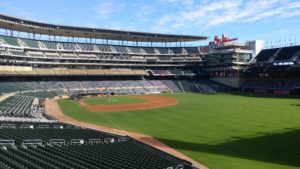 Little is going right for Sonny Gray this season.
Wins have been absent for over two months, there was a disabled-list stint, pitches have gone wild, and hitters are having few problems with Gray's offerings.
The Oakland right-hander will look to correct some if not all of those problems Wednesday afternoon when the Athletics conclude their three-game series with the Minnesota Twins at Target Field.
Gray (3-7, 5.42 ERA) entered this season as the team ace, and it was hard to argue based on his 33-20 record and 2.88 ERA in his first three seasons with Oakland.
He has hardly been ace-like in 2016, going 3-7 with a 5.42 ERA while leading the majors with 13 wild pitches. He began the year with a 3-1 record and a 2.73 ERA, but starting with a two-inning outing April 27 in Detroit, it has been a massive struggle.
Gray is 0-6 with a 6.63 ERA in 11 starts since April 21 and 0-2 with a 4.42 ERA in six outings since returning from the disabled list June 5. He was out 15 days due to a strained right trapezius. During his losing streak, Gray has allowed a .297 opponents' batting average.
The losing streak is the longest of Gray's career and equals the longest by an Oakland pitcher in the last four seasons. His streak of 11 straight winless starts is the third longest by an A's starter this century.
"This hasn't been his best year," Oakland manager Bob Melvin said. "He'll figure it out and get better as the year goes along. There's always going to be a year that is not as good as other years."
Last Friday, Gray allowed seven runs and seven hits over six innings during a 7-3 loss to the Pittsburgh Pirates. Five of those runs occurred during the fifth and sixth, and three were allowed with two outs in the sixth.
"That was obviously not a very good start," Gray said. "There were times, like in the sixth, where I got two quick outs. I have to be able to shut that inning down and get back out there for the seventh and not hit a guy and walk another. It just escalated from there."
Gray was on the DL when Oakland swept Minnesota from May 30-June 1. Although he is 2-1 in three career starts against the Twins, he has a 6.19 ERA in those outings.
Oakland hopes Gray can correct his struggles but also help the pitching staff rebound from an 11-4 loss that ended at 1 a.m. CDT on Wednesday due to a nearly three-hour rain delay. The Athletics allowed nine runs with two outs Tuesday night, and they have a 6.63 ERA over their past eight games.
Minnesota will be looking to win a third straight home series and to earn its seventh win in 10 home games since June 18. The Twins have scored 60 runs during their past six home wins, and all three of their double-digit scoring games have come in the past two-plus weeks.
Miguel Sano, Kennys Vargas and Max Kepler homered Tuesday.
"A lot of guys had good nights," Minnesota manager Paul Molitor said.
The Twins' Wednesday starter, Ervin Santana, will hope to benefit from similar run support while also continuing his recent run of improved performances.
Santana (2-7, 4.50 ERA) is 1-0 with a 2.41 ERA in his past three starts, including Friday, when he allowed two runs and three hits in 6 1/3 innings during a no-decision against the Texas Rangers. Before this stretch, he was 0-5 with a 7.71 ERA in five starts from May 24-June 14.
Santana has extensive experience facing Oakland from his eight seasons (2005-2012) with the Los Angeles Angels. He is 15-7 with a 2.10 ERA in 28 career starts against the Athletics.
Since leaving the Angels, Santana is 1-2 with a 2.51 ERA in four starts against the A's. He took the loss May 30 in Oakland when he allowed three runs and seven hits in seven innings.Santana has allowed a .304 average (38-for-125) with runners on base. During his last three outings, opposing hitters are 5-for-24 (.208) against the right-hander with men on, including 1-for-8 by Texas when Molitor let him throw a season-high 117 pitches.
"I don't even think about that," Santana said of the pitch count. "Molitor gave me the opportunity to stay in the game and gave me more enthusiasm to pitch. I was fighting. I was excited for that."