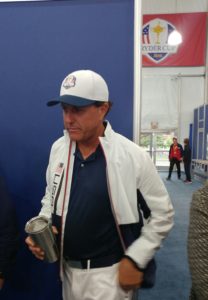 Phil Mickelson came to Minnesota this week at the center of the Ryder Cup storm, having been the most vocal of the American players in lobbying for change following three straight losses to Europe.
His seat only got hotter after he criticized former Ryder Cup captain Hal Sutton for the way he paired Mickelson with Tiger Woods at Oakland Hills in 2004. So when he stepped to the first tee on Friday morning at Hazeltine, Lefty knew he had to deliver.
"Given the buildup over the last couple years, the criticism, the comments, what have you, the pressure was certainly as great, or greater, than I've ever felt," Mickelson said. "I could have copped out and asked to sit. That would have been a total weak move, and I wanted to get out there. Put me out there. I enjoy that pressure."
After a shaky start Friday morning, Mickelson found his form on the back nine and partnered with Rickie Fowler for a 1-up victory over Rory McIlroy and Andy Sullivan, part of a clean sweep of the morning foursomes by the Americans. His front nine was marred by a tee shot that landed out of bounds on No. 6 that dropped them to 2 down. But a superb wedge on No. 16 put Fowler in position for a birdie putt that squared the match, and Fowler's tee shot on 17 helped them reclaim the lead for good.
"Certainly I played tight. This guy loosened me up," Mickelson said, nodding toward Fowler, who won a Ryder Cup match for the first time. "That's why I wanted him as my partner. He knows what to say and when to say it. He got some of my best golf out there in the end."
Few have more riding on this weekend than Mickelson, who raised eyebrows with a pointed critique of captain Tom Watson's strategy after the Americans were rolled by Europe at Gleneagles in Scotland two years ago. Watson was sitting at the table with Mickelson while he railed at all that went wrong – in Scotland and for much of the last two decades – for the Americans in Ryder Cup play.
Mickelson also had to apologize Thursday after offering up unprompted a stinging criticism of Sutton by saying the 2004 captain set up Woods and Mickelson to fail by giving them just two days' notice that the two would be playing together.
Mickelson pushed for the creation of the much talked about Ryder Cup task force, a group including Tiger Woods, captain Davis Love III and Tom Lehman that was dedicated to identifying the problems and giving the players a bigger say in the process.
The task force drew snickers from the Europeans, who are 8-2 in the last 10 Ryder Cups and going for an unprecedented fourth straight victory. Lee Westwood didn't pass up a chance to take one more shot on the eve of play.
"You form a task force and it doesn't go right this week, where do you go from there?" Westwood said. "You've done pretty much all you can do.
"So we'll see how that goes."
It wasn't easy for Mickelson and Fowler, but it worked. They were 2 down after six and again after 14 before winning three of the last four holes to take the tightest match of the morning.
"The way we stepped up again on the closing of the back nine just like we did on the front nine, hitting some shots that we needed to, it was a lot of fun," Fowler said.
Love gave the pair the afternoon off, and they were left to watch as Europe charged back into the fray.
Mickelson is the elder statesman on the U.S. team, playing in his 11th Ryder Cup. He will be back on the course with Fowler for foursomes on Saturday morning, facing McIlroy and Thomas Pieters.
If Mickelson was kept out of the action for a second straight round, Love may have heard about it.
"I think we all kind of sensed and had a good feeling heading into today that the morning was going to go well," Mickelson said. "We didn't know it would THAT well, but we knew were going to have a good morning. And gosh, the guys just played some incredible golf."
###
Copyright © 2016
TTWN Media Networks Inc.