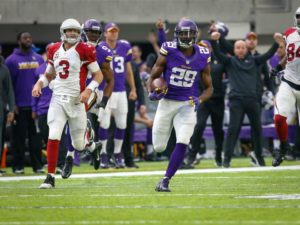 Vikings cornerback Xavier Rhodes returned one of his two interceptions 100 yards for a touchdown and teammate Cordarrelle Patterson started the second half with a 104-yard kickoff return for a touchdown as Minnesota held on for a win against Arizona, 30-24.
Sam Bradford passed for 169 yards and an early touchdown to Adam Thielen for the Vikings (6-4), who snapped a four-game losing streak. The Vikings only amassed 217 total yards of offense but had two plays of more than 100 yards in the same game for the first time in franchise history.
Rhodes says he and his teammates made a nice play on the ball:
Patterson says his return was easy:
Minnesota is the first team since Dallas in 1962 to have two 100-yard touchdowns on an interception return and kickoff return in the same game.
David Johnson had 160 total yards of offense and two touchdowns for the Cardinals (4-5-1). Carson Palmer was 20-of-38 passing for 198 yards and two touchdowns with two interceptions. The Cards haven't won in Minnesota since 1977 when they were based in St. Louis.